It's no secret that I love appetizers. I would prefer a whole meal of appetizers if given the choice.When we head out for Vietnamese or Thai food, we love ordering chicken satay skewers.
This is a spin on the satay chicken – chicken strips marinated in hoisin sauce with garlic and ginger. Grilled up, these are the perfect vehicle for some peanut dipping sauce. Even hubby who is not a fan of peanut butter loved the sauce. Hooray! Peanut butter is combined with lime juice, coconut milk and sambal oelek and made into a luscious sauce that you will want to lick off your plate. So much yum!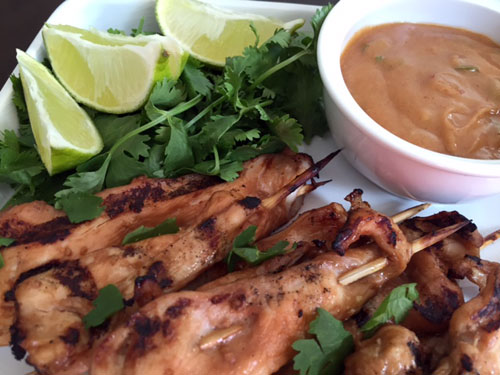 Chicken Skewers with Peanut Dipping Sauce
4 chicken breasts, sliced in strips
1/2 cup hoisin sauce
2 garlic cloves, minced
1, 2″ piece of ginger, grated
2 TB peanut butter
1/2 lime, juiced
1/2 tsp sambal oelek
1/4 cup coconut milk
cilantro
Marinate the chicken in hoisin sauce, garlic and ginger for at least an hour. Thread the chicken onto skewers and grill until done.
Mix the peanut butter, lime juice, sambal oelek and coconut milk until well combined. Add some chopped cilantro and serve with the grilled chicken skewers.