Pasta is always a go-to for anyone wanting a quick and filling meal. Barilla has found a way to get pasta done even quicker! With their new Pronto line, there is no waiting for water to boil or no need to drain the water. For someone like me who has no patience, this is a very great feature.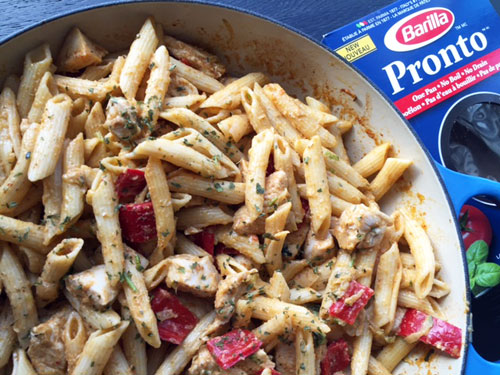 Basically, you cover the pasta with cold water and cook it on high heat until the water is absorbed, around 10 minutes. I was actually quite surprised at how perfect the pasta cooked.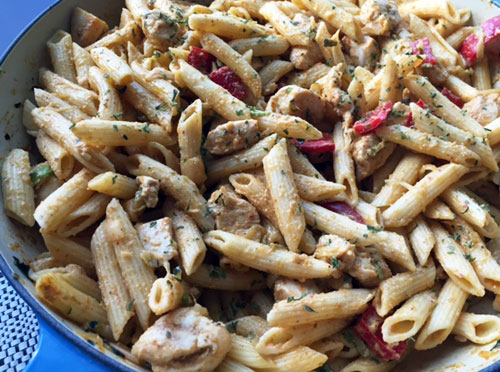 I tried out Pronto and made this quick Panang Chicken Penne. The chicken and sauce cooked while the pasta boiled and dinner was ready in no time.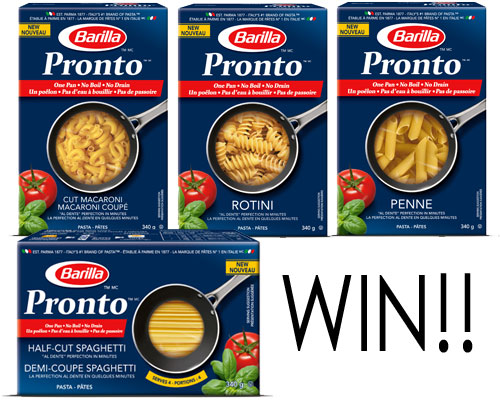 Want to try Barilla Pronto for yourself? See the ways to enter below for
a chance to win a prize pack with one box each of macaroni, spaghetti,
rotini and penne. Contest closes on Friday, October 7th at 11:59pm MST
and is open to residents of Canada. A winner will be chosen at random
and will have 48 hours to reply back. Good luck!
Panang Chicken Penne
1 box Barilla Pronto Penne
1/4 cup zucchini, chopped
1 onion, sliced
1 small red pepper, chopped
2 TB panang curry paste
2 chicken breasts, cubed
1 cup + 1/2 cup coconut milk
1/2 cup water
1 tsp sugar
Cook the penne according to package directions.
Heat oil in a pan and stir-fry the curry paste with the vegetables. Add 1 cup of coconut milk and the chicken and let cook. Add the remaining coconut milk, water and sugar and heat until boiling. Add the cooked pasta and stir until the pasta is coated with the sauce. Enjoy!