Today is my mom's birthday! My mother is known for her wonderful cakes and she is kind enough to make them for all of our birthdays. I felt that she definitely deserved to have someone make a cake for her, so Q and I took on the task. I couldn't decide what to make but Q said chocolate so chocolate it was! The recipe I used was Kraft's Best Ever Chocolate Cake. I wanted a lighter icing though and thought what could be better than chocolately nutella and airy whipping cream. We tried it out and the combination was delicious! Along with the cream, I added a layer of nutella between the two layers as well. Sprinkled with some grated chocolate chocolate, it was the perfect way to celebrate a classy lady. Happy Birthday Mom! Love you!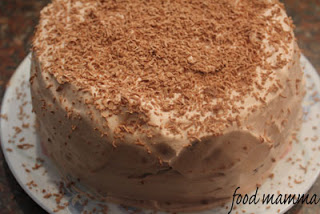 Kraft's Best Ever Chocolate Cake
From Kraft Foods
2/3 cup butter, softened
1-3/4 cups each flour and granulated sugar
1-1/4 tsp. baking soda
1/2 tsp. Magic Baking Powder
1-1/4 cups water
4 squares Baker's Unsweetened Chocolate, melted, cooled
1 tsp. vanilla
3 eggs
Heat oven to 350ºF.
Grease and flour 2 (9-inch) round pans. Beat all cake ingredients except eggs in large bowl with mixer 2 min. or until well blended. Add eggs; beat 2 min. Pour into prepared pans.
Bake 35 to 40 min. or until toothpick inserted in centres comes out clean. Cool 10 min.; remove to wire racks. Cool completely.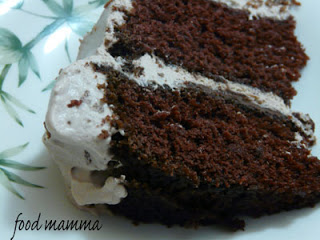 Nutella Whip Icing
2 cups whipping cream
1/4 cup nutella
Whip the cream until doubled in volume but right before soft peaks are formed. Heat the nutella and gently fold into the cream and beat until completely whipped. Refrigerate until ready for the cake.