We have compiled a list of some of our favourite things in our 2020 Holiday Gift Guide. From things to read, things to eat and even things to smell.

Looking for some ideas on what to gift those special people in your life? Here are a few of our favourite things.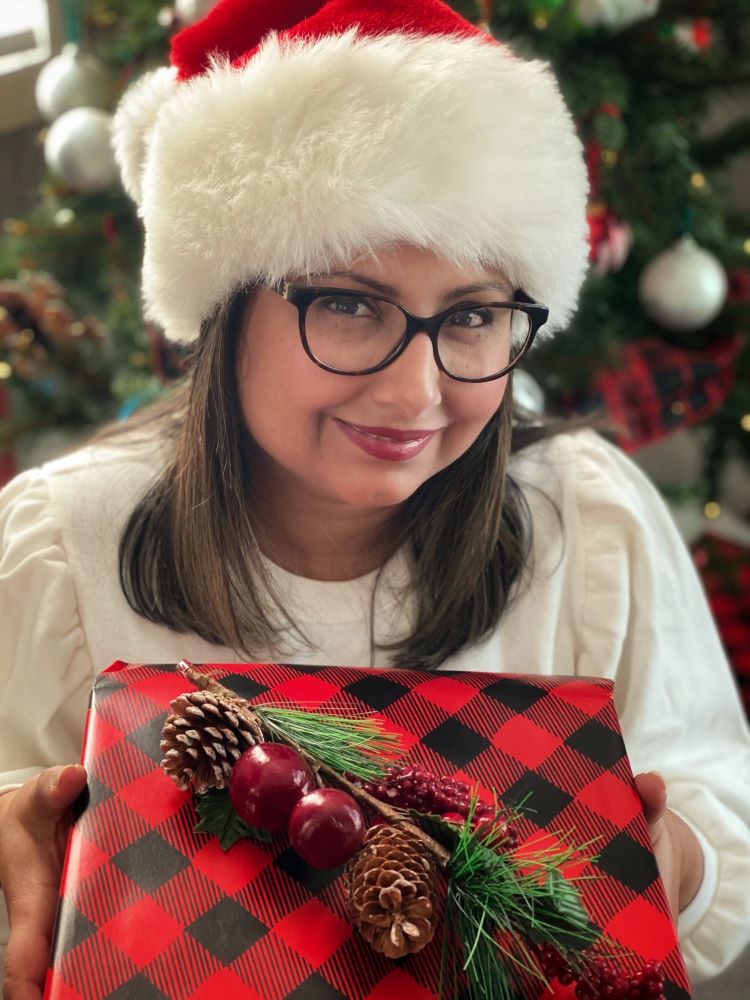 At Your Door | Cook | Drink | Eat | For The Home | In The Kitchen | Indulge | Read | Stay Safe | Explore | Wear | Play
At Your Door
Bessie Box
Imagine surprising your meat loving friends with a cooler bag of their favourite cuts on their doorstep. Bessie Box directly supports Alberta farmers to bring you natural, organic meat. You get to choose the Bessie Box that fits your taste, add on any extras that you want and choose a day and time that works for you. If you're not sure what to try, start with the Bessie Test Kitchen which includes a taste of beef, chicken and fish.
Best of Calgary
I love it when businesses collaborate and that's what Best of Calgary Foods is all about. Place an order online and choose from 24 of your favourite local vendors for one flat delivery fee. From baked goods to meat, dairy to drinks – support local and get it delivered right to your door.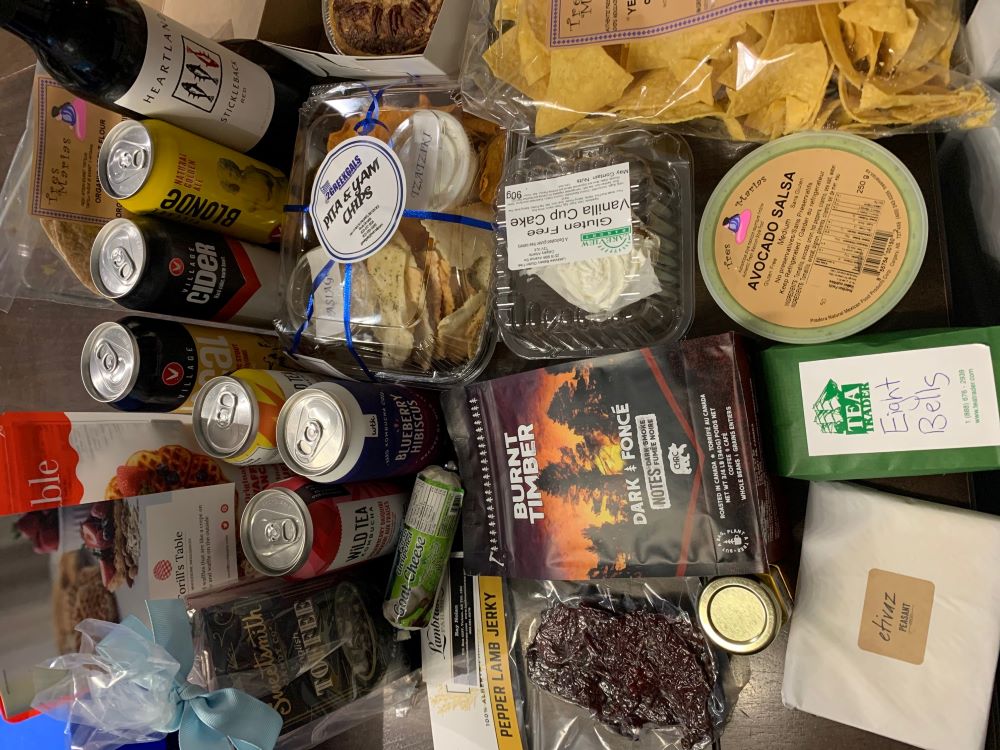 The Kinetic
Cajun Chicken, Tandoori Jumbo Prawns, Balsamic Roasted Brussel Sprouts…finding these at your door, ready to eat, would make anyone jump for joy. The Kinetic YYC creates bulk protein and roasted vegetables that are cooked and delivered to your door. All you have to do is heat and eat. They provide healthy protein options that you can supplement everyday meals with!
Cook
The Bite Me Balance Cookbook
I am loving the new cookbook from the Bite Me sisters. The Bite Me Balance Cookbook (affiliate link) is full of healthy recipes that are easy to make and delicious to eat. The tuna and sashimi cucumber bites were a hit with the family.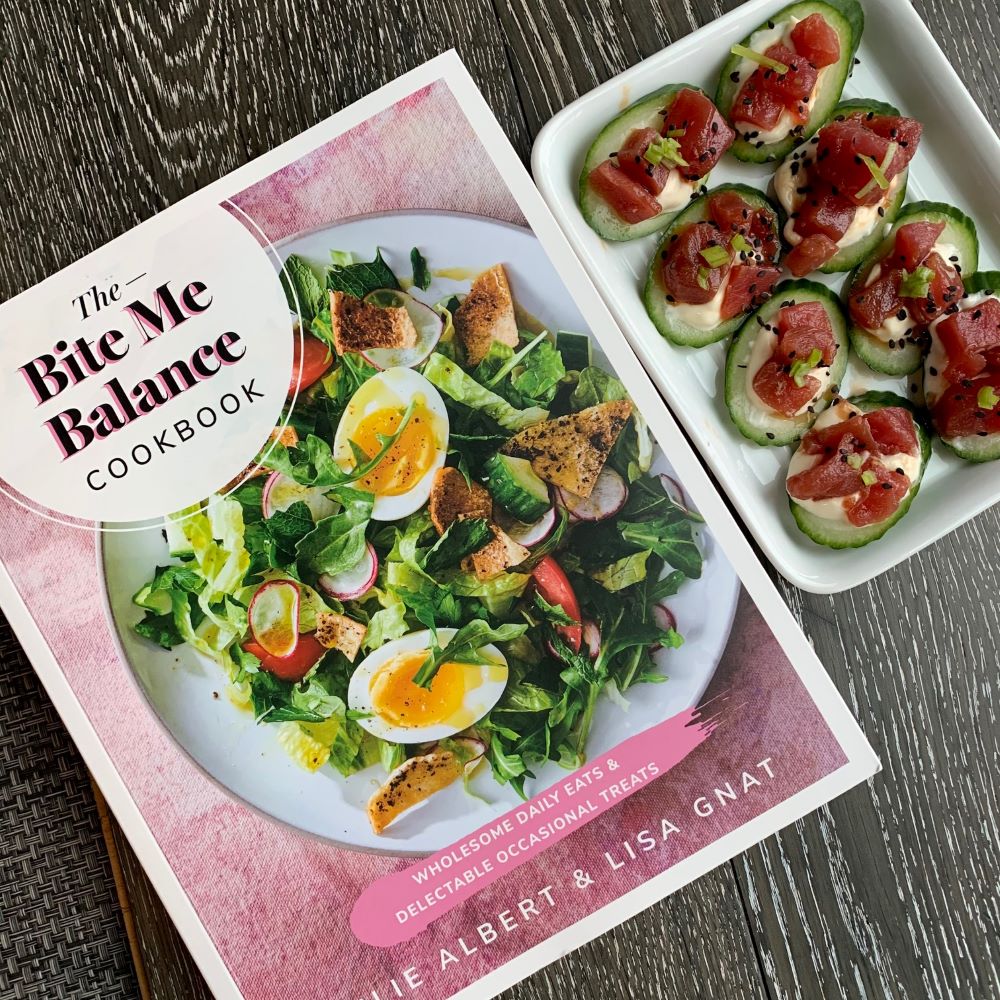 Dirty Food
I think our favourite snack has to be crackers and cheese. The Broken Crackers from Julie's latest book, Dirty Food, are one of the best and are perfect with brie and red peper jelly! The whole book is fantastic as are all of Julie's recipes.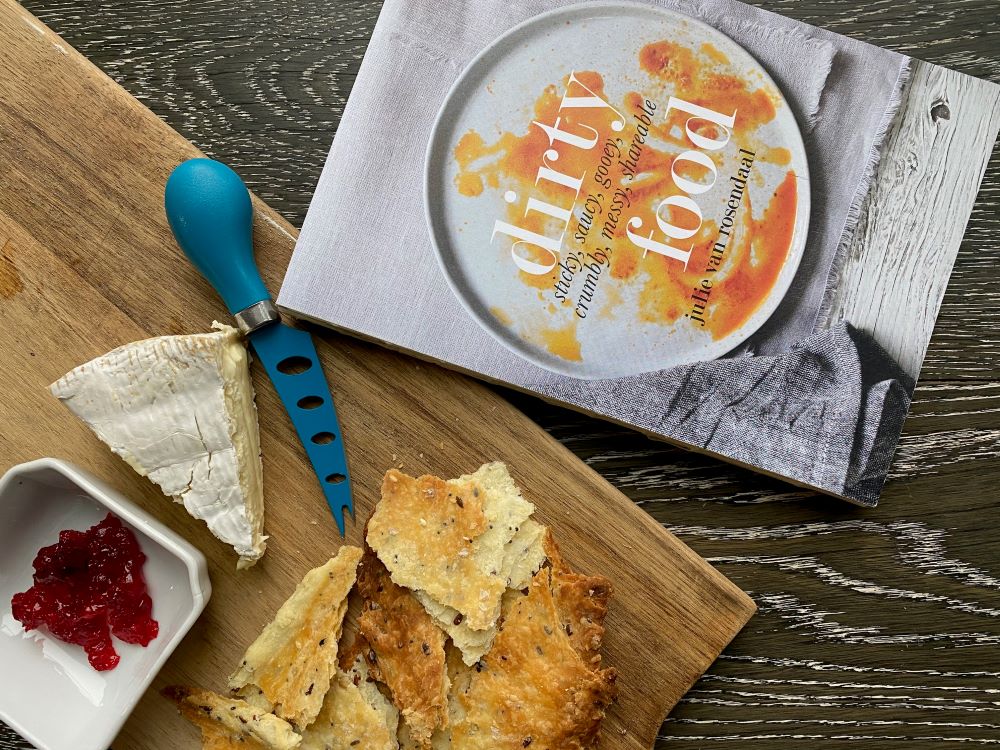 Dishoom "From Bombay With Love"
One of my favourite meals when visiting London was at Dishoom. We happily stood in line, drinking chai while we waited. We were rewarded with a delicious flavourful meal.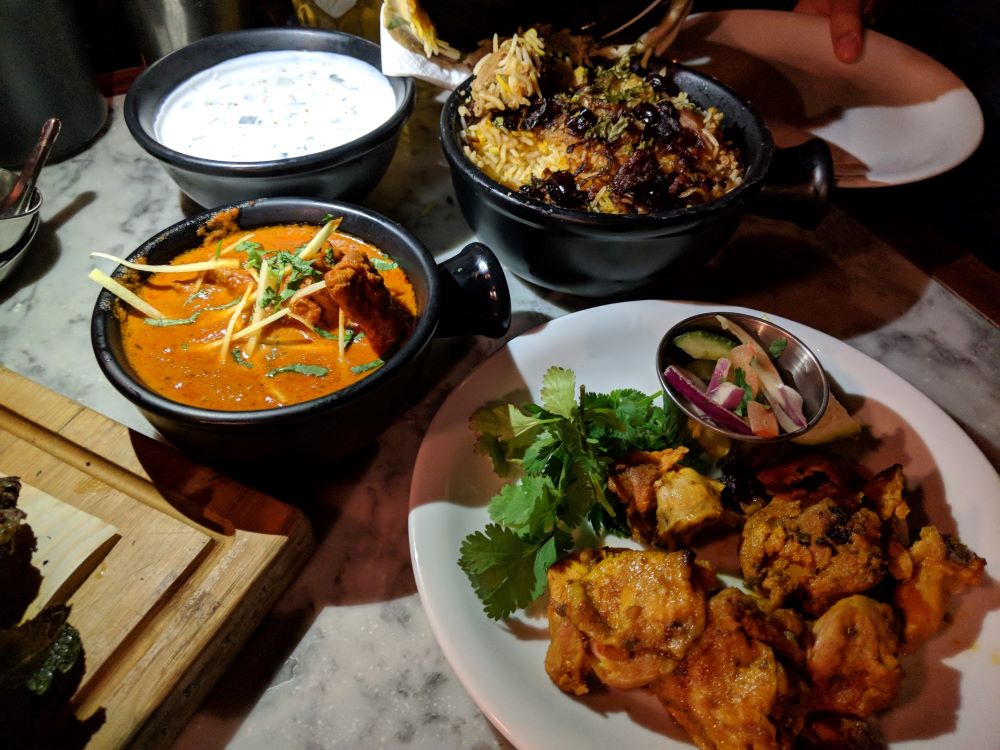 I was delighted when they released a cookbook, Dishoom "From Bombay With Love" (affiliate link). This beautiful book is filled with pages of food and stories and photographs. I can't wait to cook everything from it!
Nonna Said…
Nonna Said is a new cookbook by sisters Nadia Carinelli and Sara Marghella. The book has many favourite Italian recipes, all with colour photos and tips. There are also snippets of what Nonna Said, peppered throughout the book. The book can be purchased online at www.atavolayyc.com and at The Italian Centre.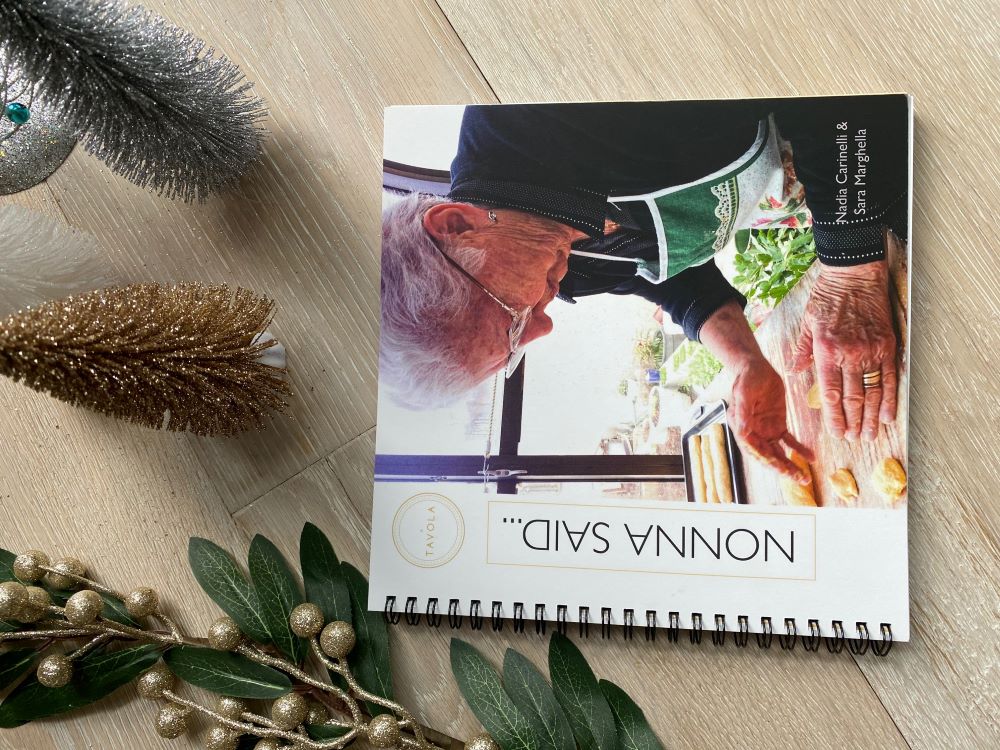 Drink
Allegory Chai
Forget the milk and cookies for Santa. This year, leave some chai and cookies!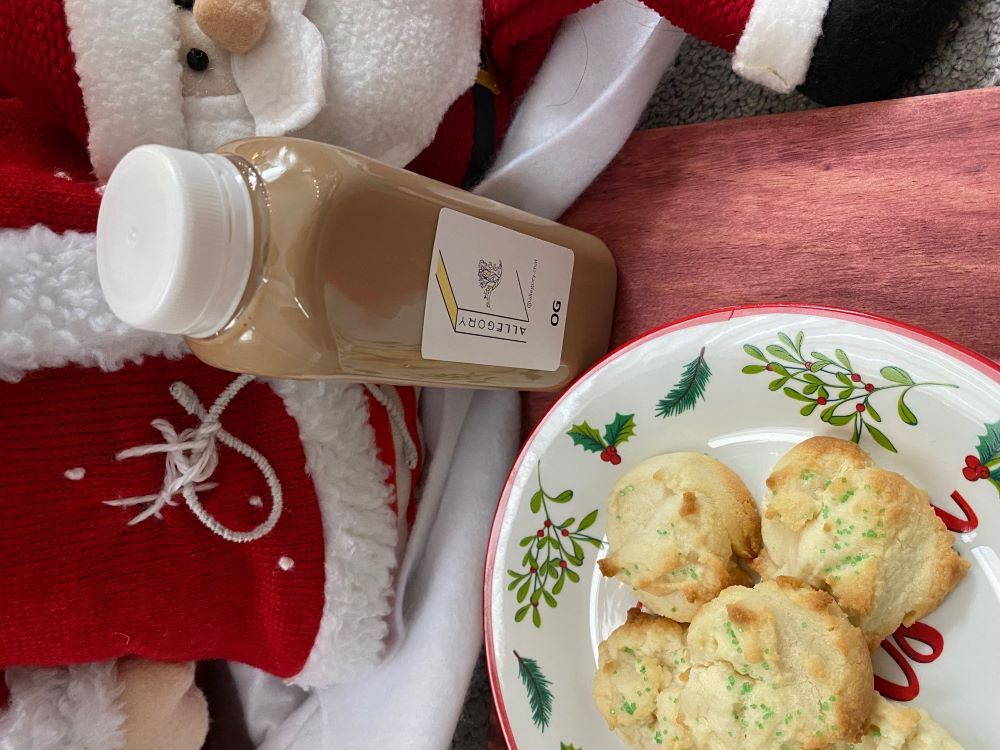 For your tea-loving friends, Allegory Chai has just the thing. Modern traditional chai in a bottle! They have modernized tea by making it convenient on the go, and ready to drink. All their chais are lactose or dairy free so they are easy on the stomach. They have three varieties to choose from: Unforgettable which is dairy-free, OG which is traditional and Zigga which is masala chai.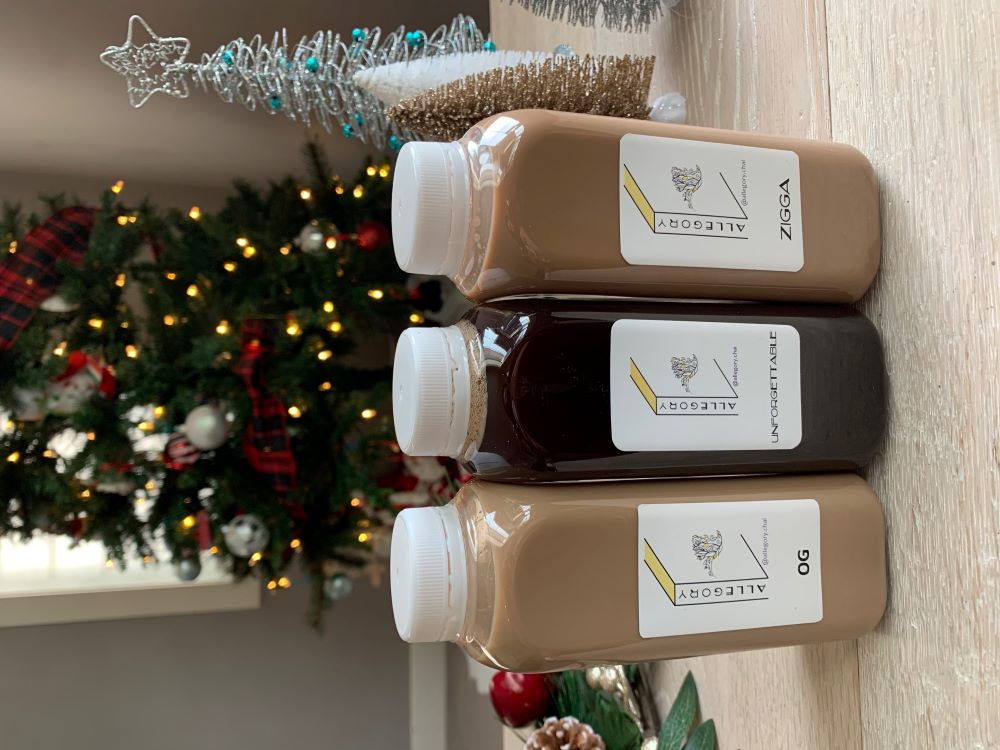 Allegory Chai is running a "Chaiber Monday" promo from Nov 25-30th for 20% off all orders (automatically applied).
Crafty Cocktails
Let's face it. Spending time with family and friends during the holiday season is going to look very different. Get a cocktail kit for you and your friends and make your zoom calls interactive. Crafty Cocktails has DIY kits delivered straight to your door. The curated kits have fun recipes, interesting ingredients and step by step ingredients. The recipe cards even tell you what kind of glass you need for a particular drink.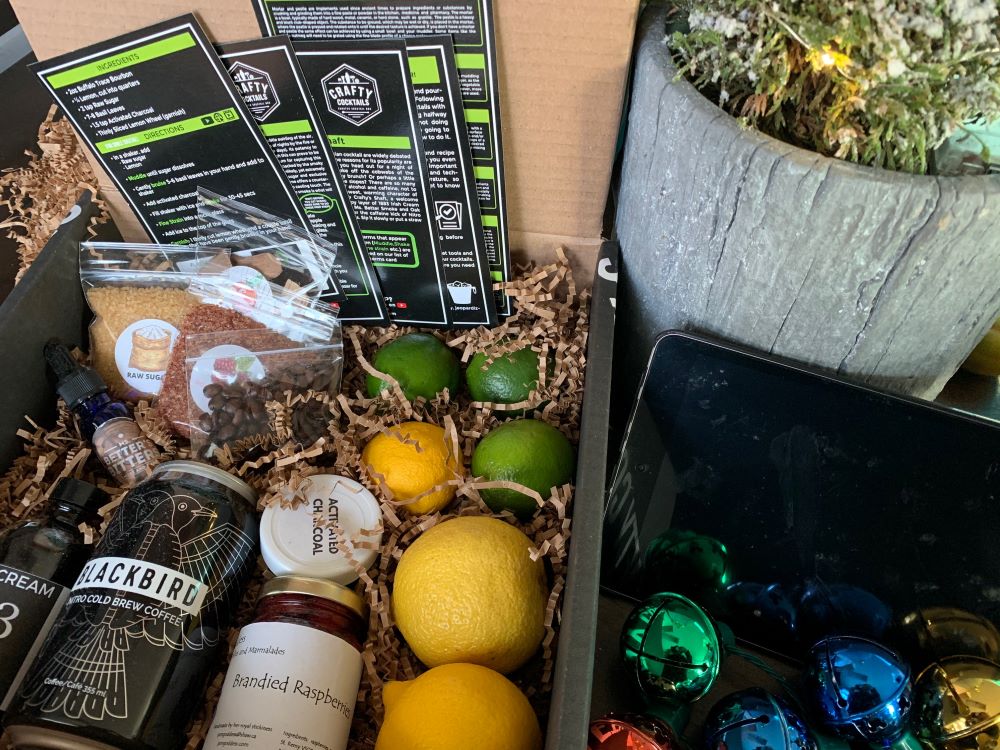 I love that the kit has ingredients that are different, opening the door to something new. With the card for each cocktail, it teaches you step by step exactly what you need to do, what you need to use and makes it easy for any beginner.
Lumette
Don't let your non-alcoholic friends or your designated drivers miss out on the cocktail experience. Lumette offers aromatic spirits without the alcohol. Made with all natural flavours and premium botanicals, they boast flavours of juniper and citrus.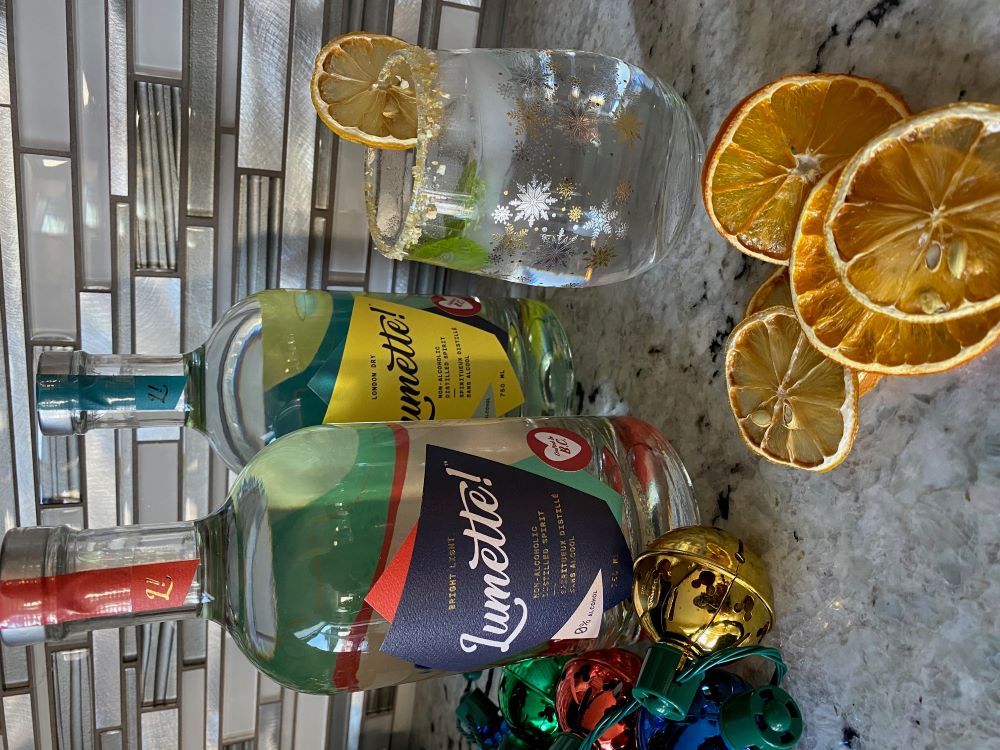 Lumette adds a lot of dimension to any drink. A little bit with tonic and some mint or rosemary and lemon. Definitely more interesting than a soda.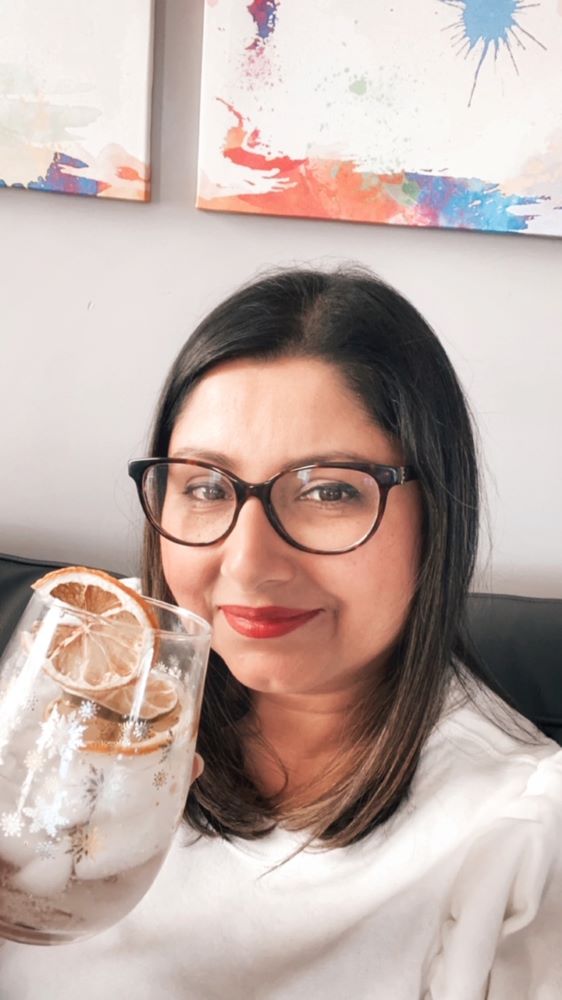 Spirits With Smoke
Have someone on your list that loves making cocktails? Gift them with smoking cocktail boards! Spirits With Smoke has sets that are perfect for elevating the cocktail at home. Since we're all spending more time at home these days, it gives us a chance to learn something new. The Smoked Old Fashioned Kit makes it easy to create high-end restaurant quality cocktails in the comfort of your own home. The kits contain five different aromatic wood disks: Cherry, Hickory, Maple, Oak, and Walnut along with bitters and bar essentials.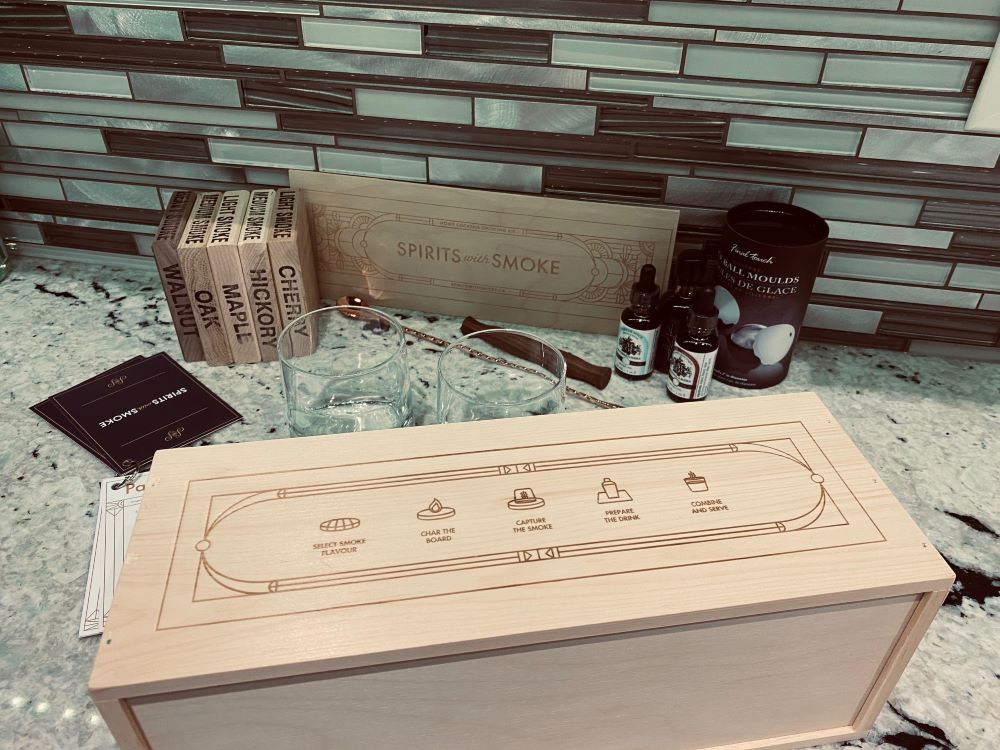 Impress your friends, online or in person, with The Smoking Saucer Set. Add smoke to your cocktails using the saucer and Alcohol Infused Wood Chips.
Eat
Blood Sweet Tears
Blood Sweet Tears has a line of keto friendly, sugar free, gluten free, and vegan nut butters. Available in a variety of flavours, these are so good, you can just eat them with a spoon. Some of their flavours include smooth almond, smooth cashew, salted caramel, brownie batter and french toast.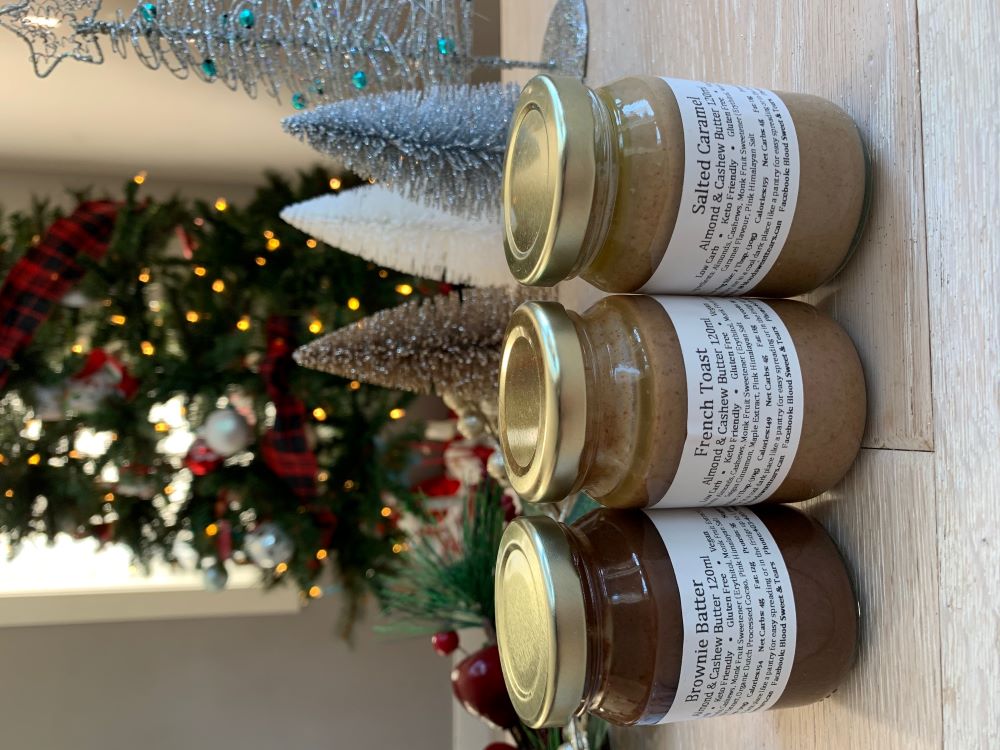 Garchi
I fell in love with Garchi from the first bite. This garlic chili oil is crunchy and chewy and is perfect on everything! It's so good, its very easy to eat by itself. For people who love flavour, this is the perfect condiment.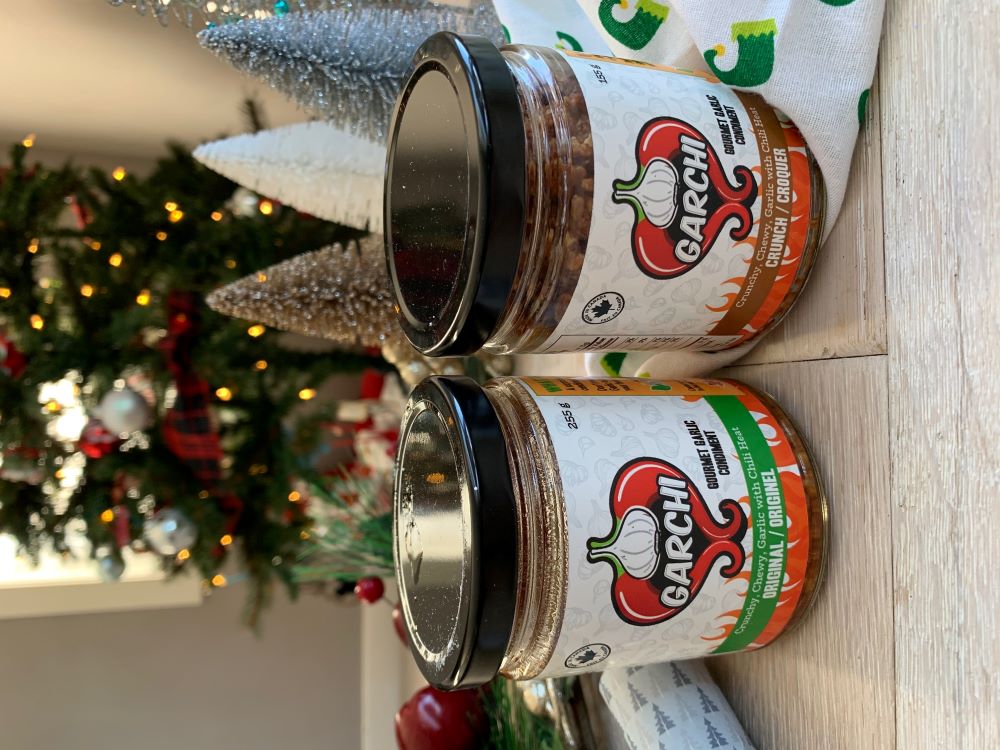 Happy Pops
Although I've never tried Happy Pops, a number of people have sang it's praises and I thought it was worth an inclusion. Crafted in Toronto, Happy Pops are made with real fruit and without the use of any artificial ingredients. There are a number of flavours to choose from and delivery throughout Canada is available.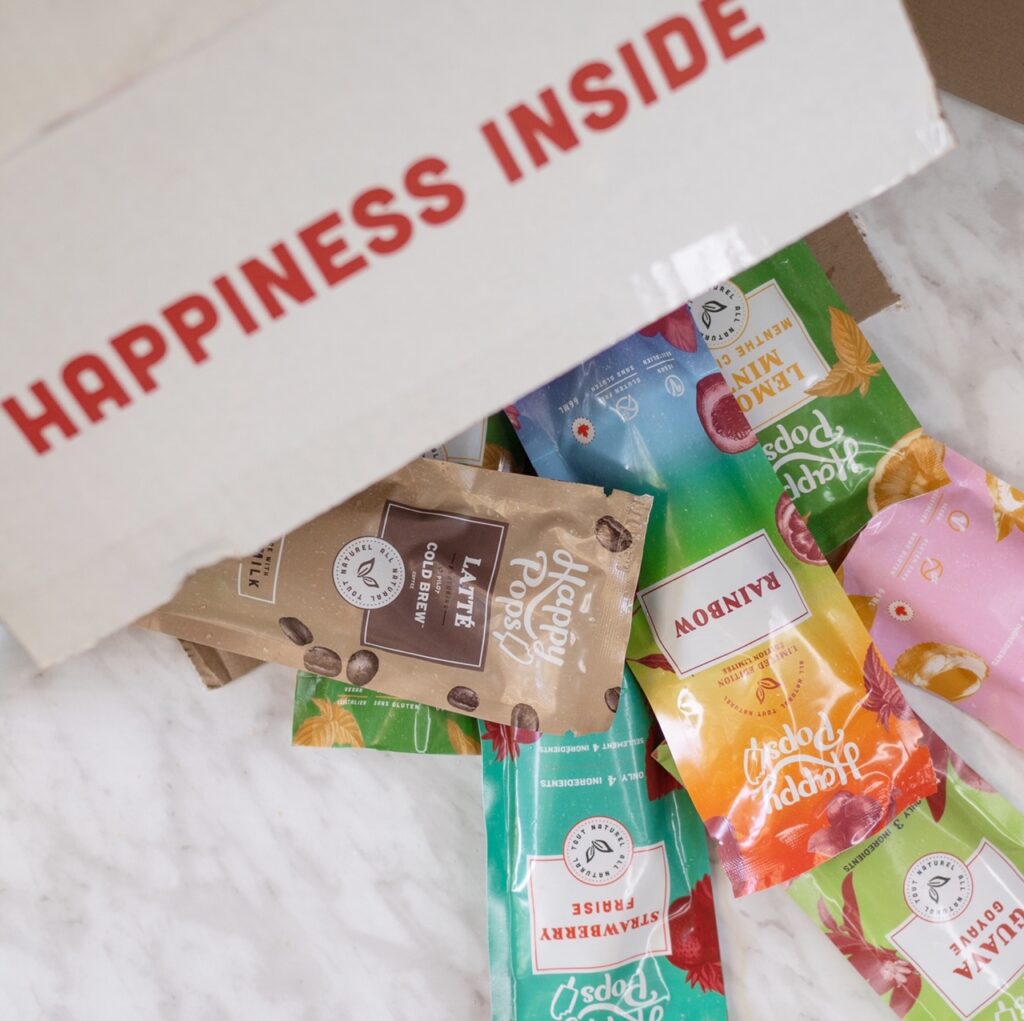 Pie Junkie
You can now order Pie Junkie online and have it delivered straight to your door! This holiday gift box made my day when it showed up at my doorstep; it definitely makes the perfect gift! You can customize the box with their many varieties of pies, both sweet and savoury. The chocolate hazelnut has always been a favourite of mine.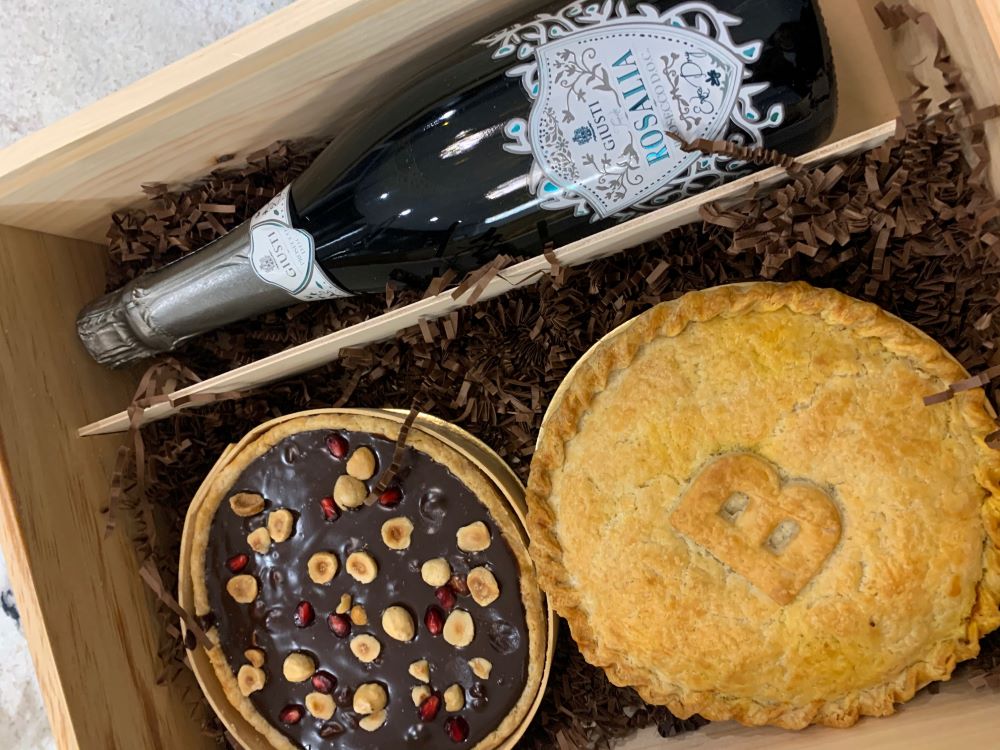 Saputo Cheese Collection Boxes
We love cheese and getting a box of cheese for a gift would be amazing. Saputo has curated boxes of cheese just in time for the holidays. Each box comes with a selection of their finest cheeses, beautifully arranged and grouped by theme along with a handy guide to help discover and learn about these savoury cheeses.
The boxes that are being offered are: The Great Canadian Cheese Platter, A Collection Inspired by Italian Cheesemaking, Goat Cheese Lovers, A Collection of Award Winning Cheeses, A Collection of Entertaining Cheeses, A Collection of Mini Fine Cheeses.
Soffritto
Soffritto's mini gift sets make the perfect stocking stuffers for the foodie on your list. Each set contains a 60mL olive oil and 60 mL balsamic vinegar. Not only does this Calgary-based company have oils and vinegars from around the world, they make fresh pasta and delicious meals.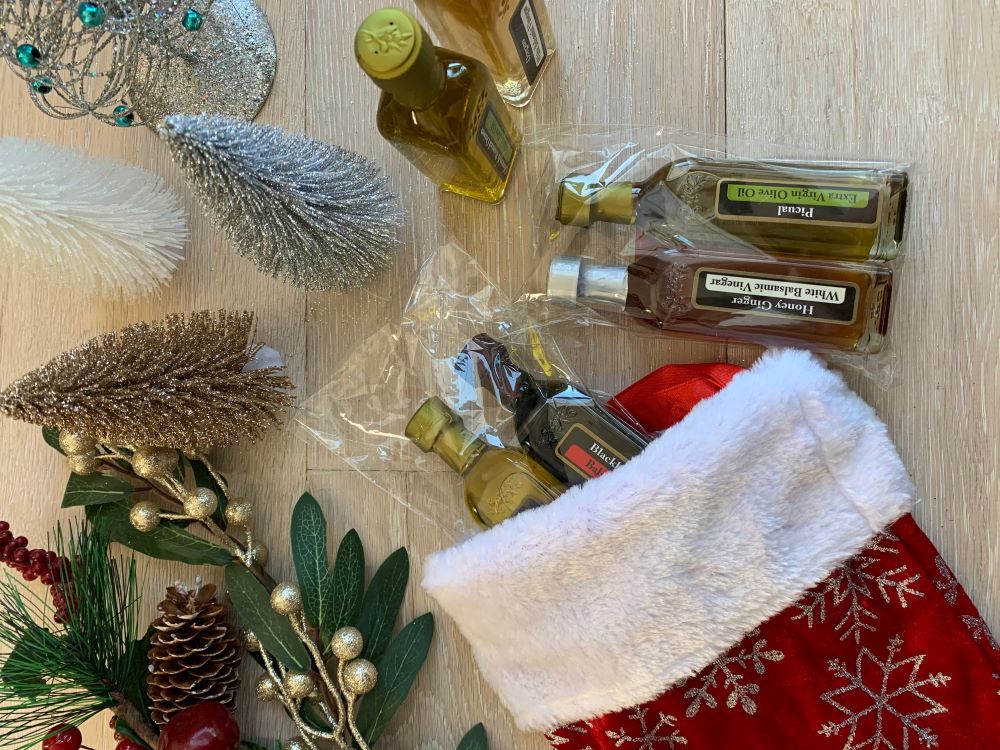 For The Home
Milk Jar Candle Company
I had always heard amazing things about Milk Jar. A few months ago, I purchased the Hygge and was in love. The candle made the house smell so good and I found myself lighting it every night. The wood wick is the best part – I love hearing the crackle of the wood. I'm pretty sure that this is the first candle I've burned to the end.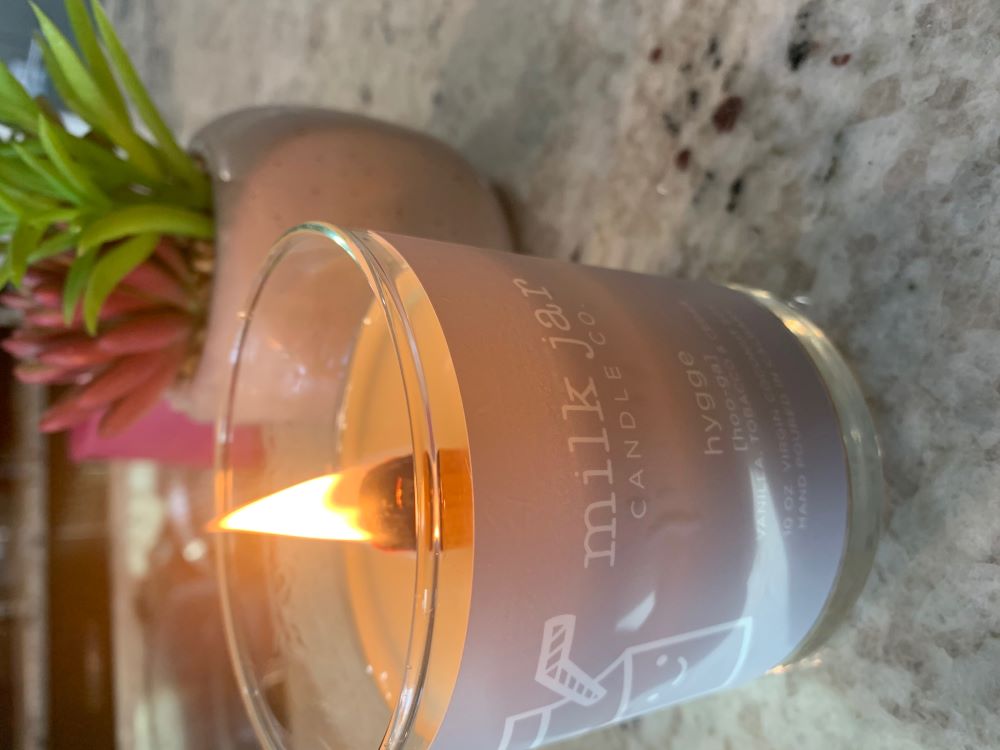 Just in time for the holidays, Milk Jar has come up with a new seasonal – Holly. Holly might be another one of my faves. Made with cranberries, cloves & winter pine, the smell is so festive and warming and cozy. These candles are made with natural coconut soy wax & wood wick. $1 from the sale of every scented soy candle is donated to a non-profit supporting children with disabilities.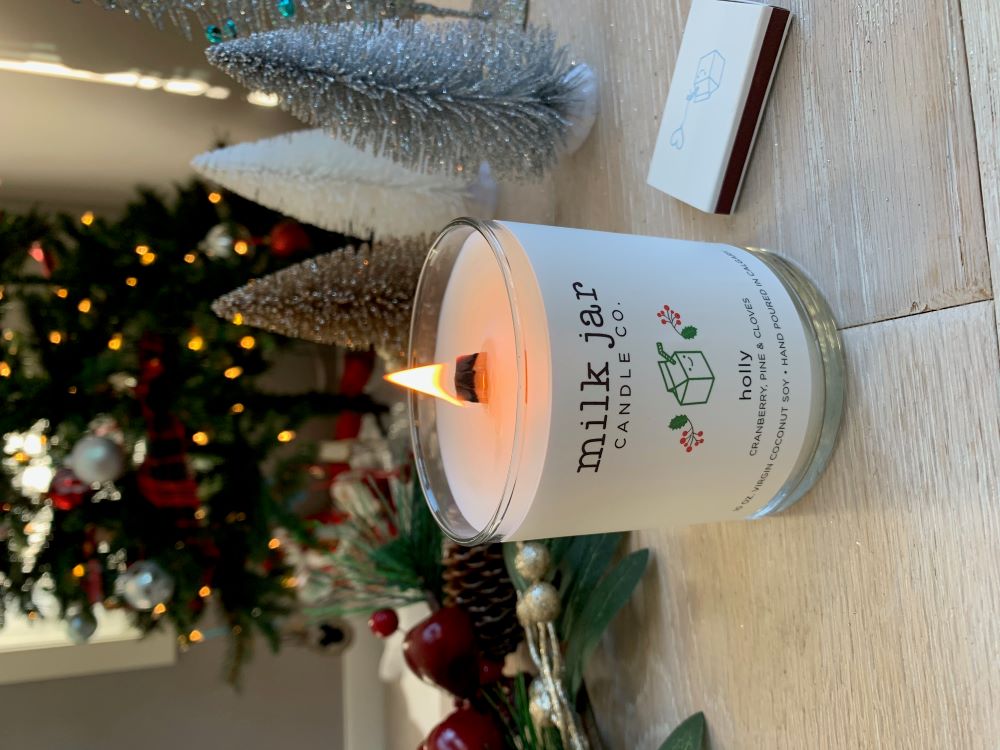 Milk Jar can be found in several retail locations in the city. I purchase mine locally from Honeybuns + Bees, a small Chestermere based shop celebrating women owned, Alberta based companies.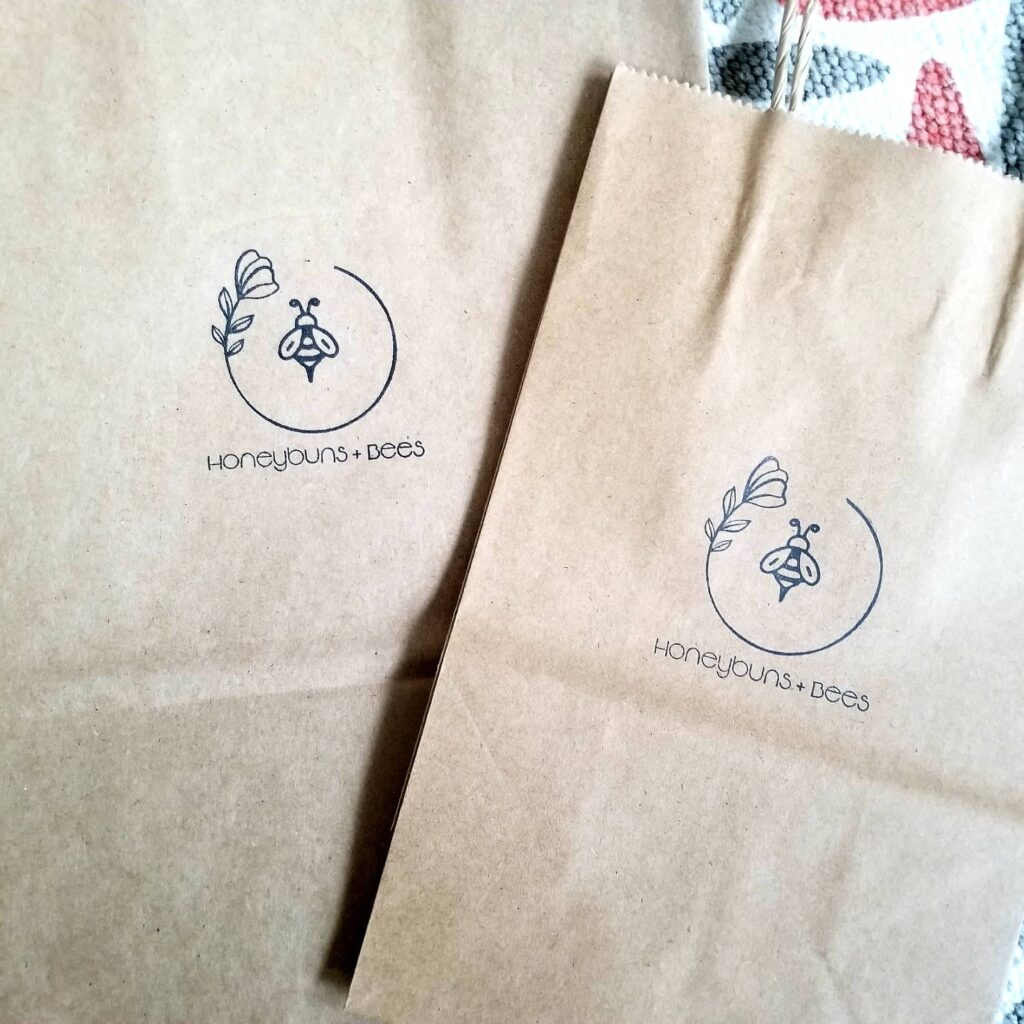 In The Kitchen
Hamilton Beach Milk Frother
The Hamilton Beach Milk Frother makes it's way back on our list this year because it has been in constant use for the past year. It is perfect for frothing milk for hot chocolate or golden milk. I even use it to make a quick cafe latte. It warms the milk perfectly to pour on those hot chocolate bombs!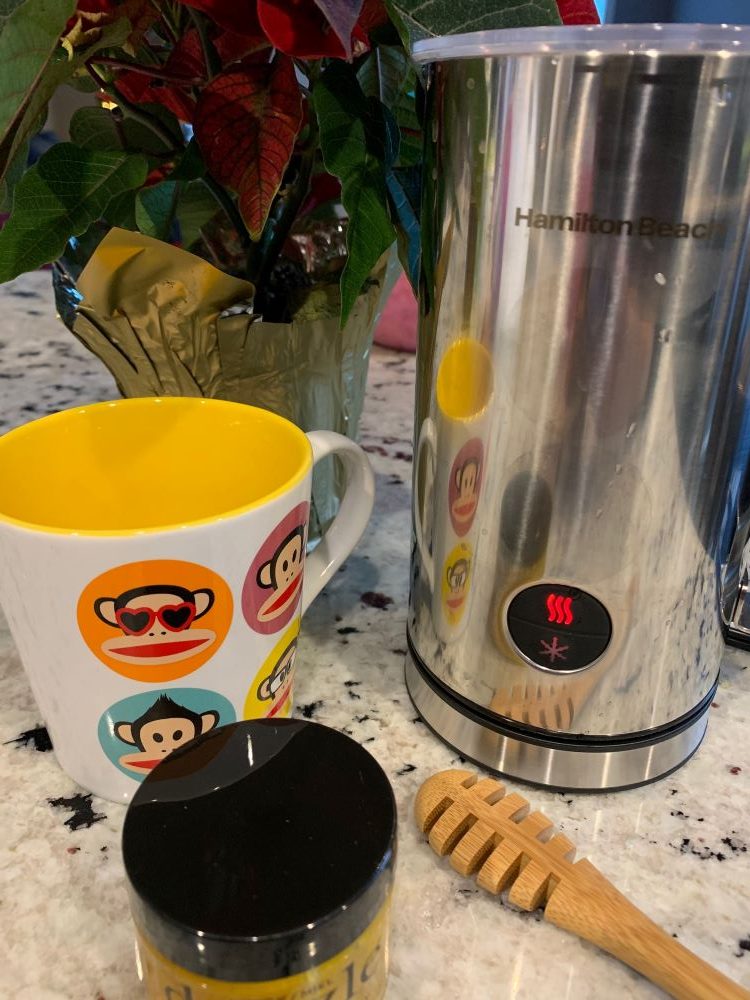 ThermoWorks Thermapen Mk4
It's no secret that there is always a meat project cooking around here. The key to cooking meat well is to cook it to the right temperature. We are loving the ThermoWorks Thermapen (affiliate link). With high accuracy, quick speed and a fold away probe, it is trusted by the worlds most acclaimed chefs and BBQ champions.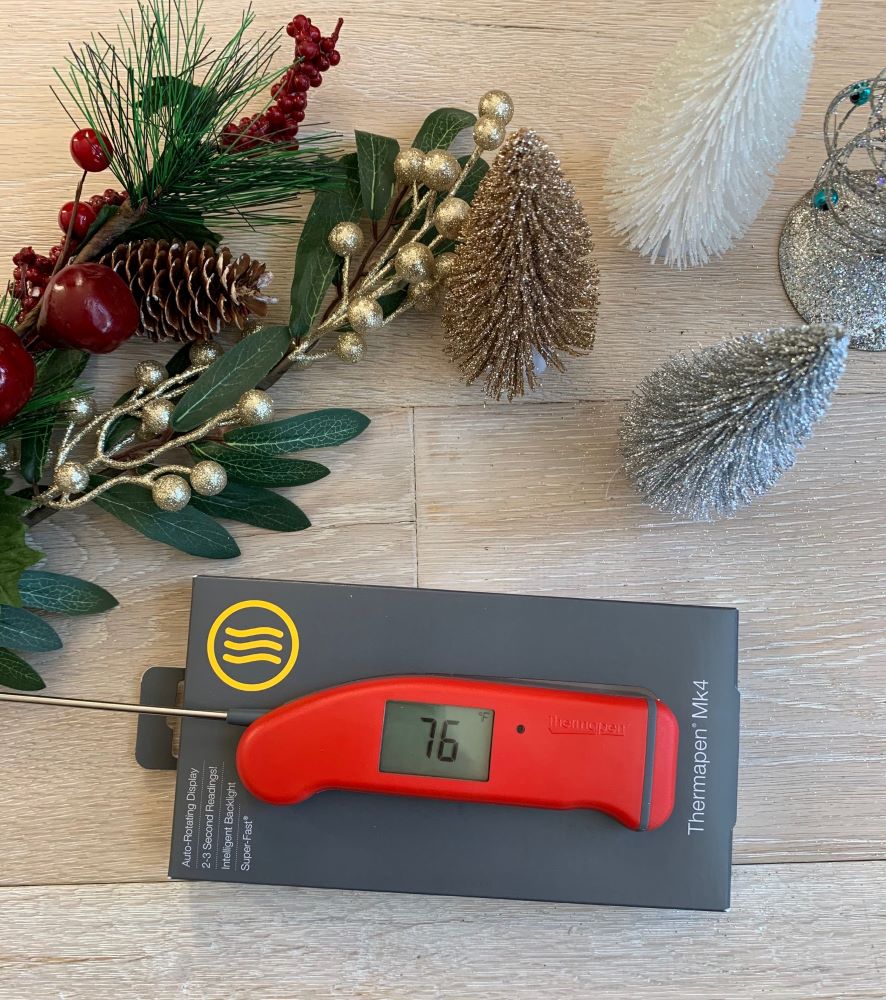 From brisket to ribs to chicken, a good thermometer is a must!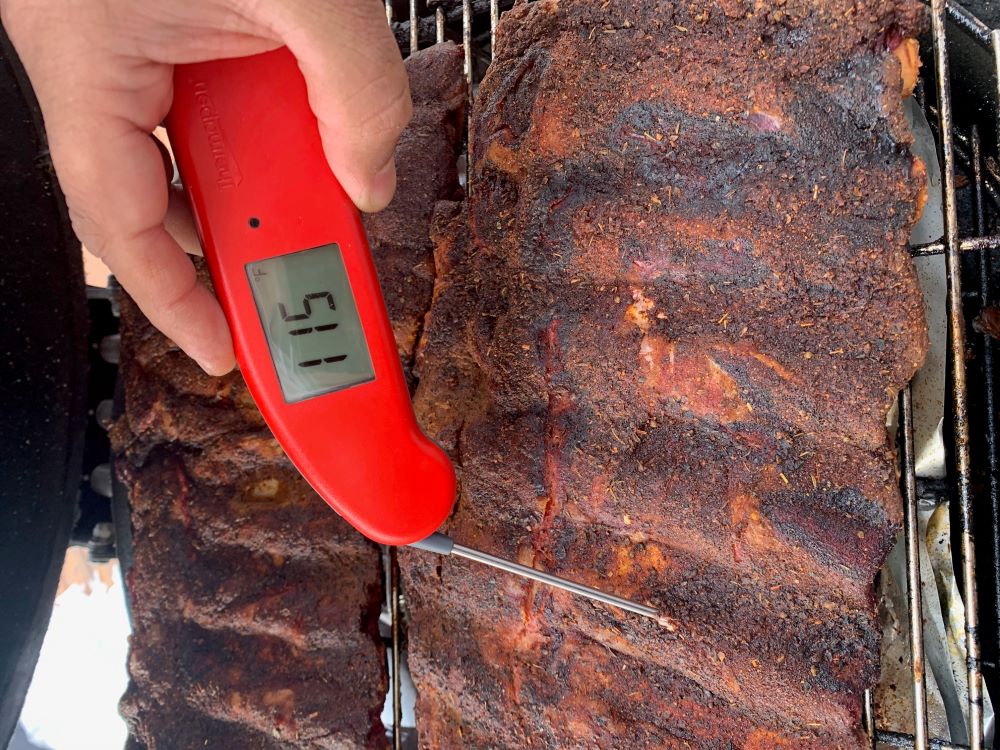 Indulge
Cochu
I love Cochu's award winning chocolate. While I love the Caramelized Sponge Toffee, my favourite is their unique 'Racha Peanut Bar. Sriracha, sea salt, sponge toffee & roasted peanut in creamy milk chocolate gives you a little bit of sweet, salty and spicy. For those orange and chocolate lovers, a package of candied orange peel is perfect for the stocking.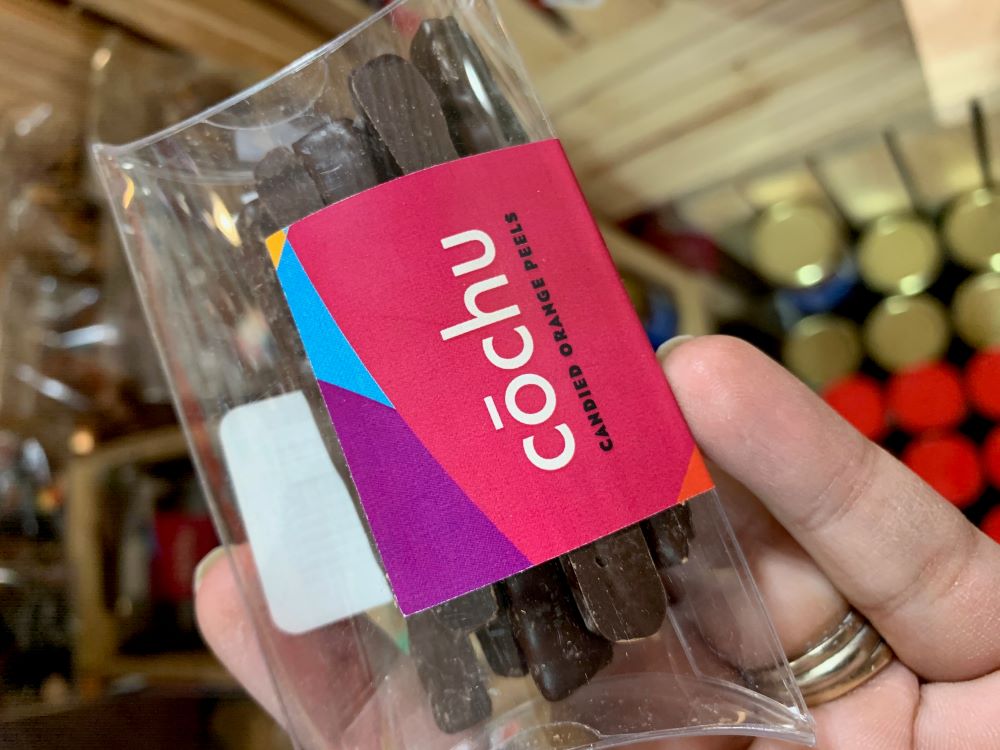 Cococo
If you are loving holiday spices, Cococo has a pack of twelve holiday chocolates crafted with traditional flavours, warming spices, and liqueurs. The flavours include Butter Ganache Gingerbread, Cinnamon Ginger, Nutmeg Orange and Pumpkin Caramel.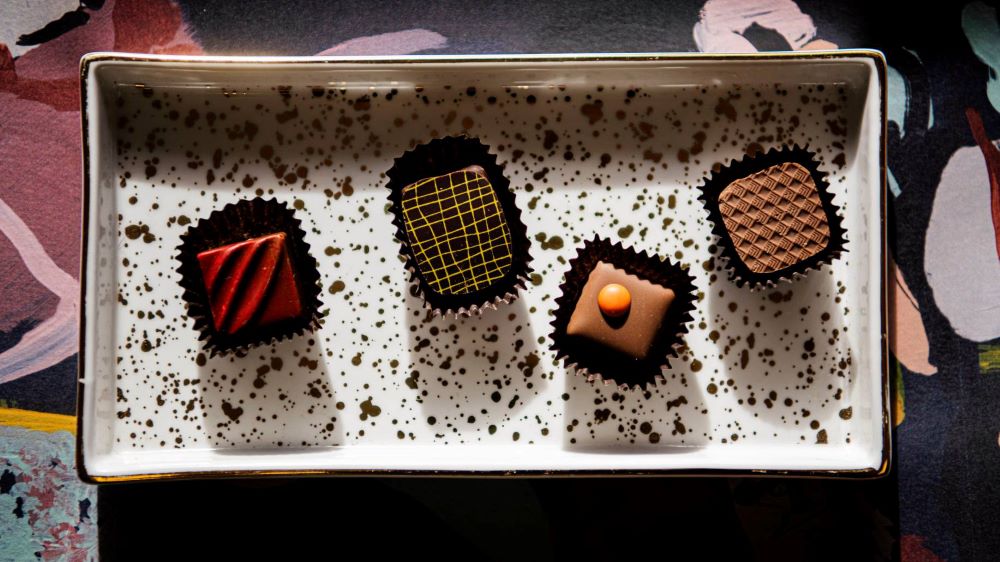 Master Chocolat
Hot chocolate bombs are all the rage right now. How amazing would a box of these be for your loved ones? Master Chocolat has 8 different flavours to choose from: White Raspberry, Milk Candy Cane, Vegan Dark Candy Cane, Milk Hazelnut Praline, Milk Christmas Spice, Dark Christmas Spice, Milk Salted Caramel & Dark Salted Caramel. They are in a handy ornament so you can hang them from your tree.
It is so fun to watch these babies in action. Just place the bomb in your favourite mug and pour steamed milk over top. Watch while the milk melts the chocolate and releases the marshmallows – so fun!
Read
Ms. Nanji's Embarrassingly Bizarre Day
This interactive story about a slightly clumsy grade 2 teacher who moves to Kenya to teach for two years. Written by a fellow Calgarian and teacher, Ms. Nanji's Embarrassingly Bizarre Day (affiliate link) has an interactive component that allows discussion with your young one while reading the book.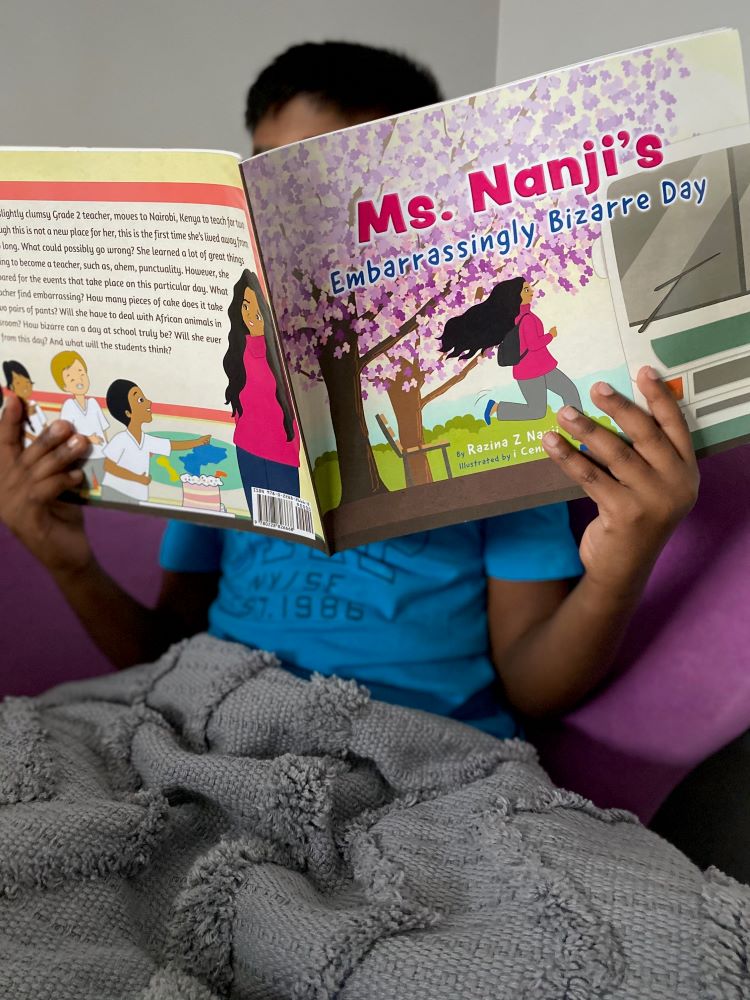 Super Miraculous Me
After a 45 year career as a guidance counsellor and teacher, Cheryl Wowk released her new book, Super Miraculous Me (affiliate link). This book teaches children how to unleash their inner superhero by teaching them key themes such as self-esteem, purpose, resilience, empowerment, emotional regulation and mindfulness.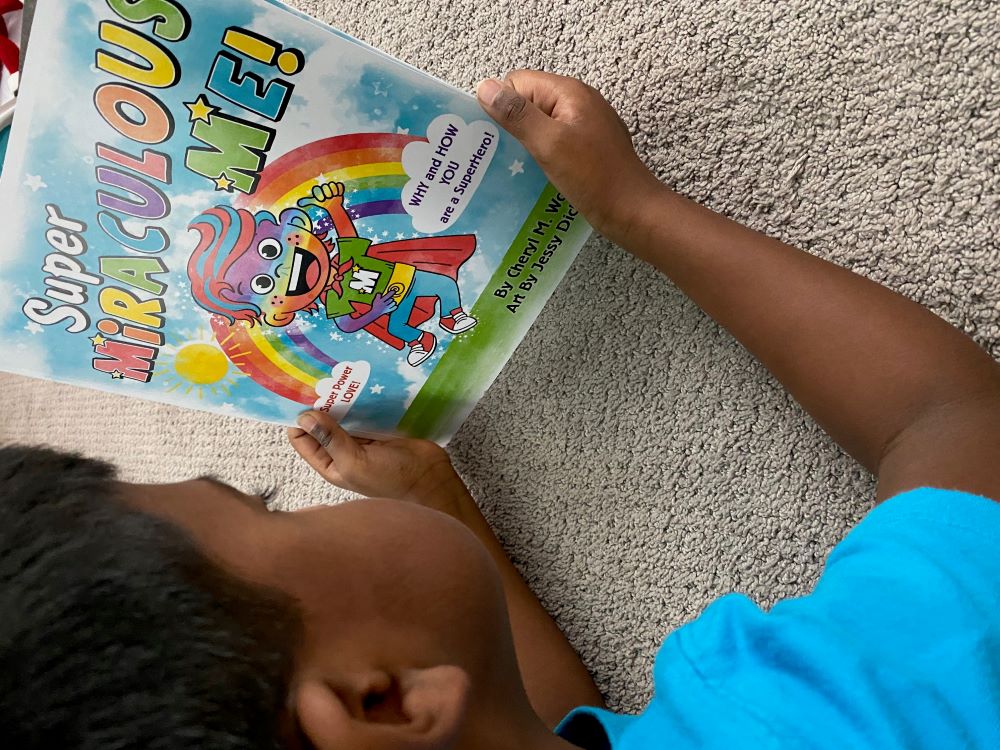 Stay Safe
Neal's Yard Organic Defence Hand Spray
You can't leave home without hand sanitizer these days, so it's best to use something that smells good. Neal's Yard sanitizer is lightly fragranced with essential oils and leaves no sticky residue. It's one we like to keep on hand.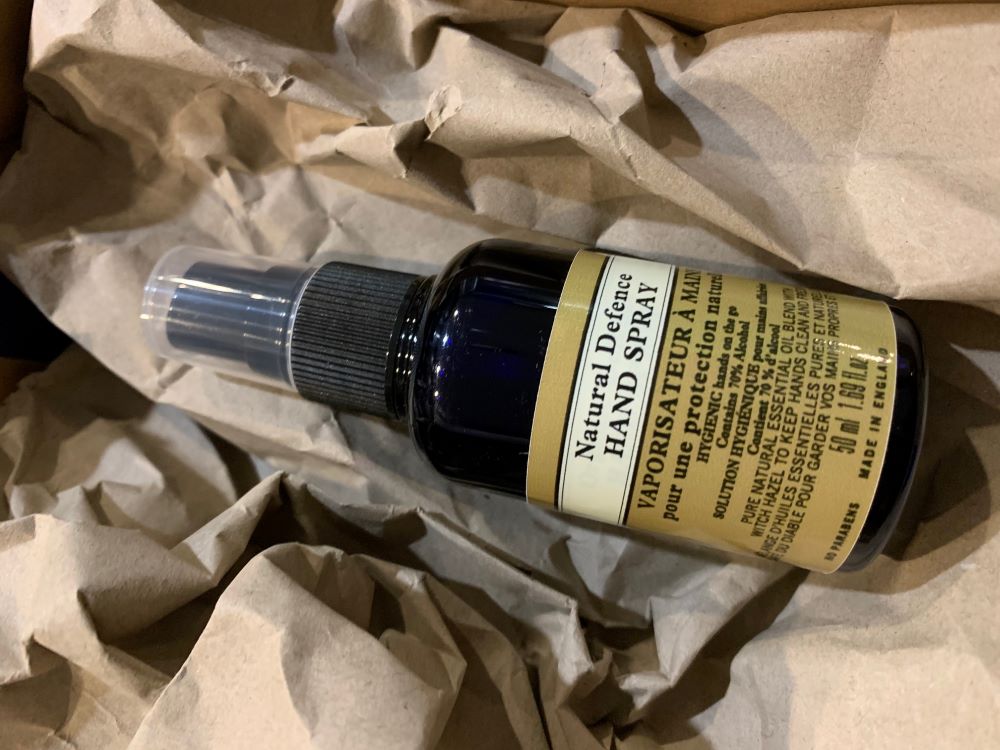 Medium Rare Chef Face Mask
After trying countless masks, we have found that the ones from Medium Rare Chef are one of the best. The adjustable nose wire provides not only a custom fit, but allows for glasses to not be fogged up. Made with high quality fabric, it is definitely one of the more comfortable masks to wear.
Explore
Alberta Food Tours
If an experience is what you are after, the place to turn to is Alberta Food Tours. We have always loved the culinary adventures that Alberta Food Tours provides. For 15 years, they have been helping foodies discover delicious finds in local neighbourhoods. This year, AFT has launched the Alberta Food Finder app.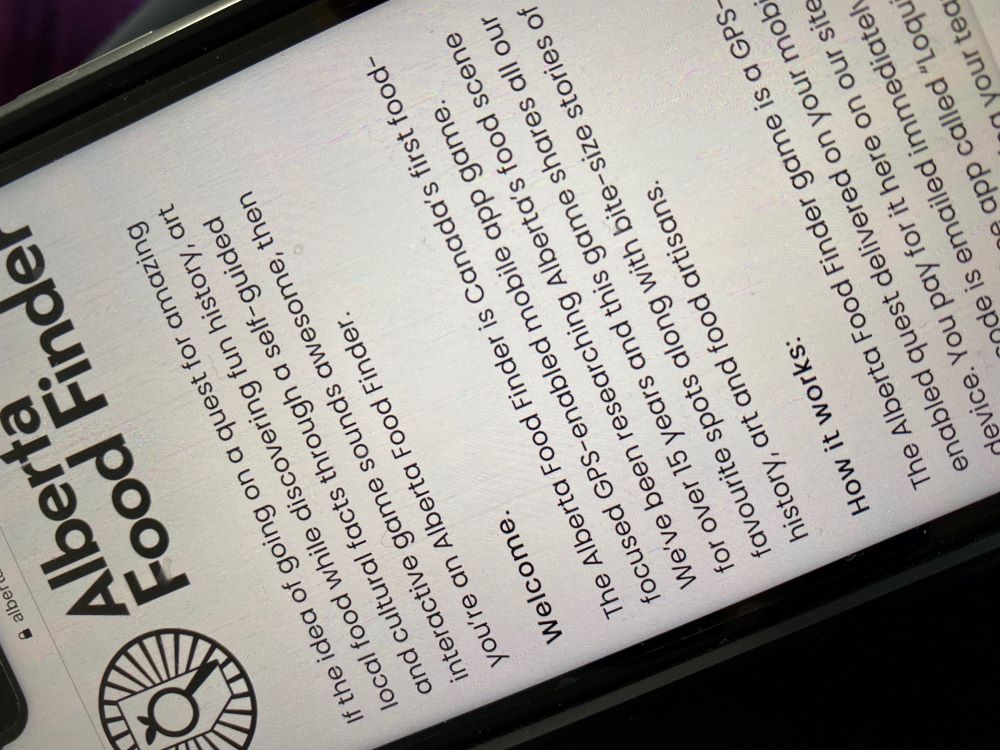 The Alberta Food Finder can be played by 1 to 4 players. It is a safe way to eat, engage and explore. Once you purchase the game on the site, you will be emailed a quest. Once you complete a clue, the next one shows up on the app. For Kensington, there are 29 clues. At each clue, you will be given food samples, discounts or promos. A fun interactive way to discover Alberta.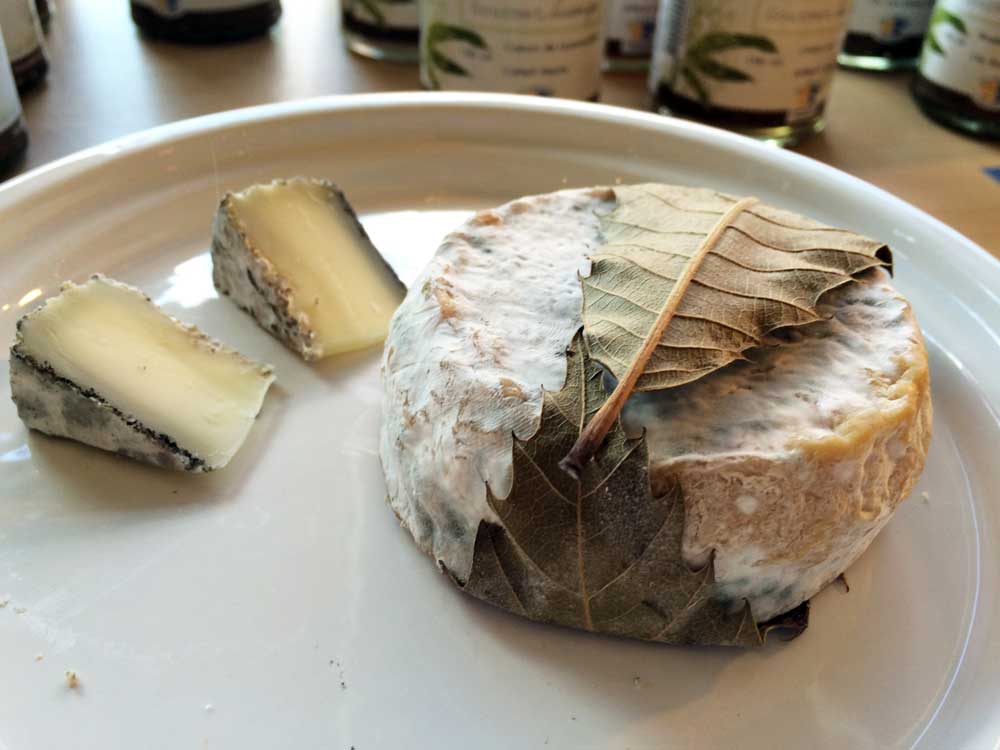 Buy the Alberta Food Finder for 20% off with code: FoodMamma. For 20% off any gifts in their store or any other gift certificates or tours, use code: Recovery20.

Granary Road
Granary Road is a great place to spend with the family. They have an Active Learning Park which is fun and educational for kids. It also has a great Public Market with amazing vendors and Calgary's only indoor rooftop bar.
Season's Passes are $45/guest and from now until Dec. 20, Granary Road is offering 20% off 2021 Season's Passes, a deal at $36! Day Passes are $12/guest and from now until Dec. 20, Granary Road is offering 20% off 2021 Day Passes, for $9.60! Goat Yoga Passes also make a great gift and they are $20/class
Wear
The Happiest Collection
2020 has been all about comfort. With this crazy year, everyone I know just wants to be wrapped in something comfortable. That doesn't mean that it can't look good. The Happiest Collection is a premium apparel line made in Canada (Alberta!) and is uplifting with their happy messaging.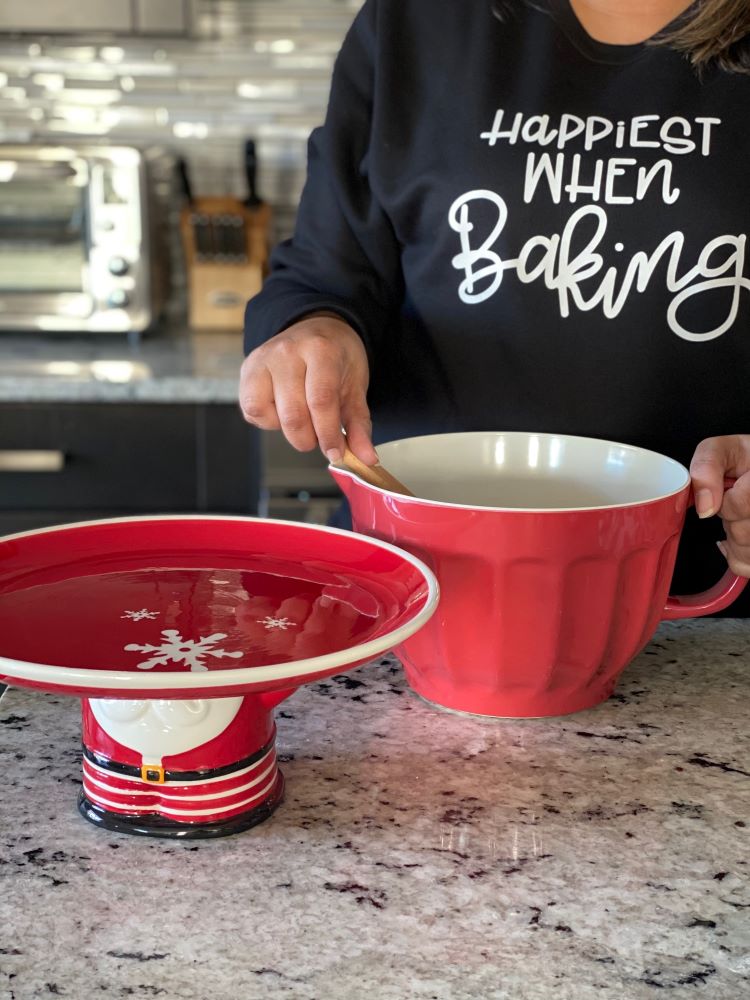 With tops for adults and children as well as some fun tote bags, you can find something for everyone on your list. I am loving this "Happiest When Baking" sweatshirt. 2020 in a nutshell!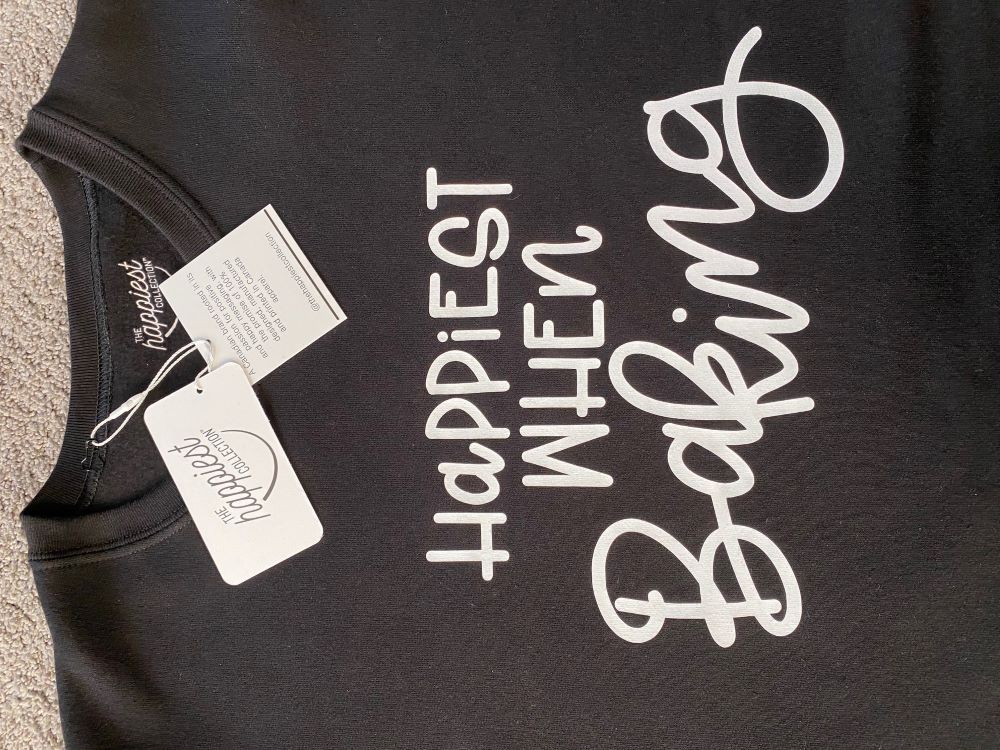 Local Laundry
Local Laundry has been one of my favourites from the beginning. Not only do they have great quality clothing, they have an amazing sense of community. They collaborate often with local communities, working together in partnership.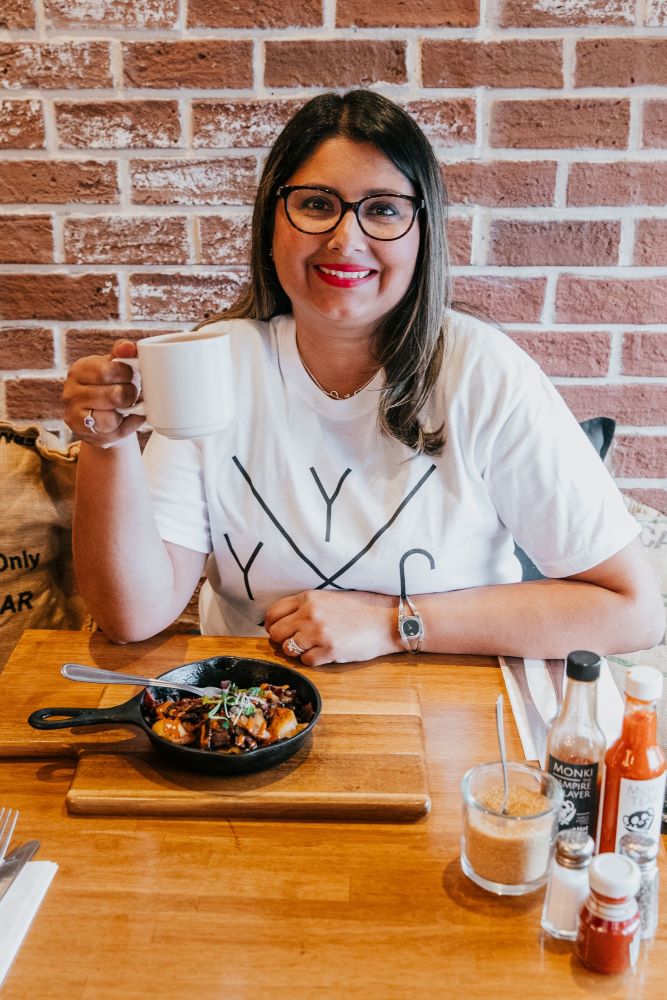 Every year, Local Laundry comes out with their Giving Garments. By buying one of thsese toques or socks, one is donated to a homeless organization in Canada. I am loving the beige, black and hot pink toques they have available this year!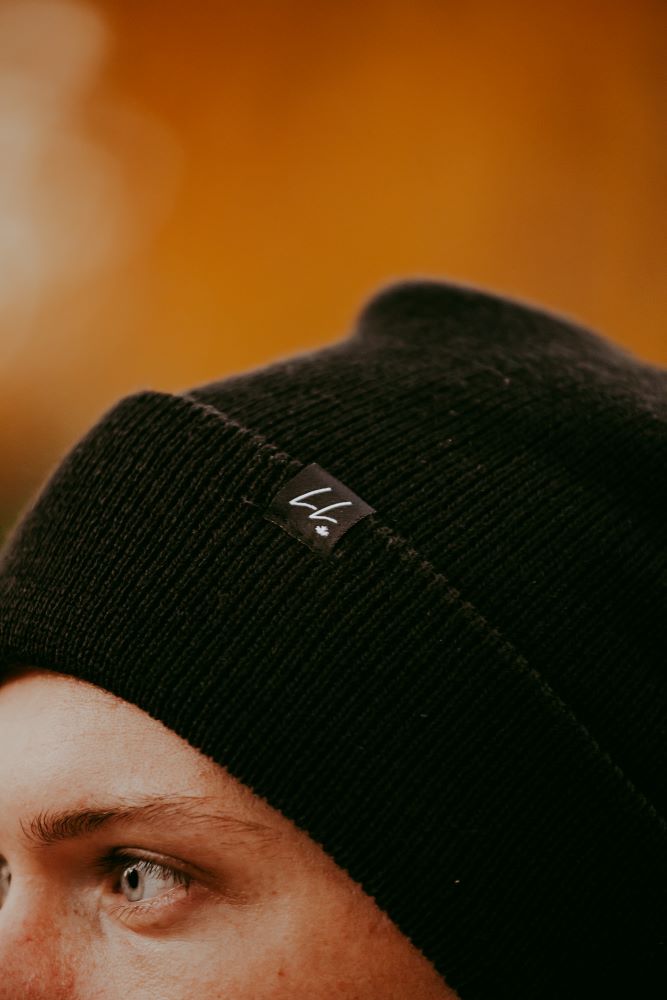 Medium Rare Chef
Stylish and functional, Medium Rare Chef has some gear that is high in quality and looks pretty fab. This is the perfect gift for the foodie on your list. I love the Edwin but found a few others that I think are pretty stylish.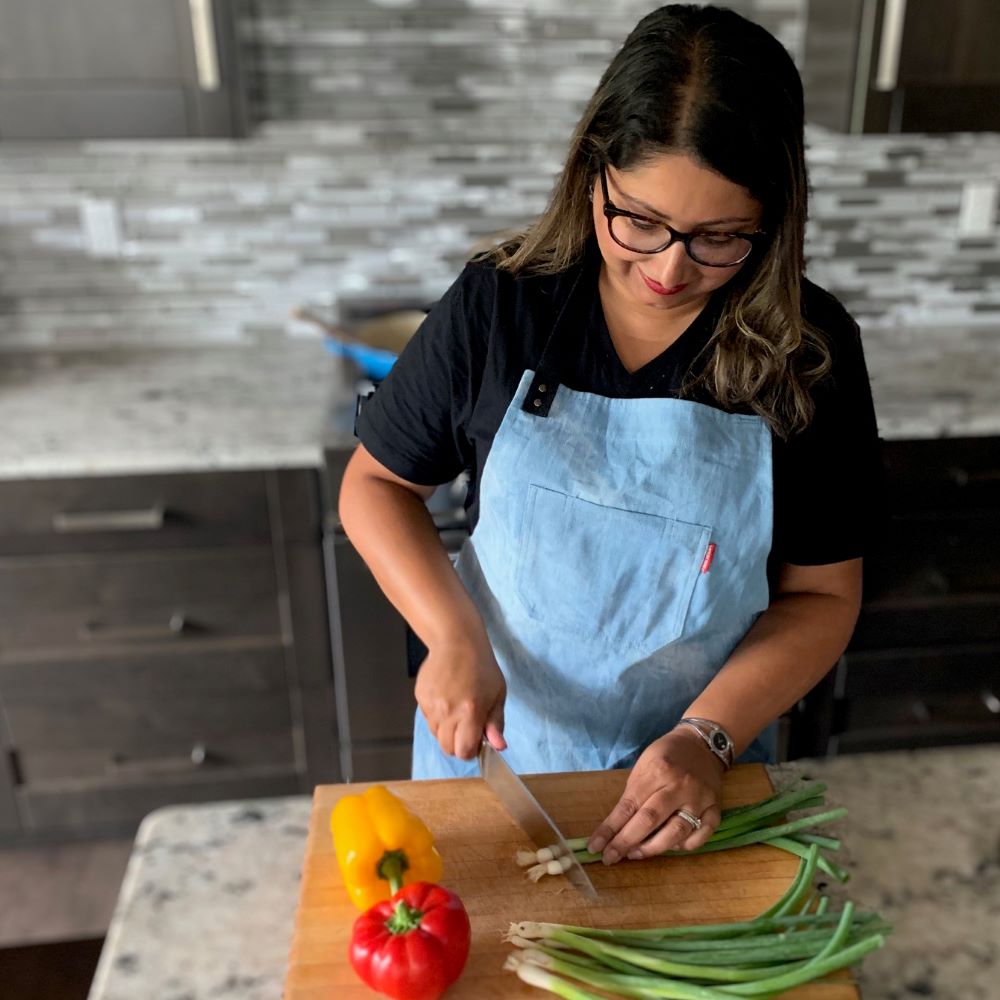 Play
Amazon Fire Tablet
When looking for a tablet for Z, we opted to get the Fire Kids Edition Tablet (affiliate link). It comes with a kid-proof case and lets you place limits for your kids as to what they can do and for how long. The best part is that it comes with a 2 year worry free guarantee. Anything happens to the tablet, they replace it. We saw this in action when I discovered a big crack on the screen. Amazon was great and sent me a new tablet within a day. I highly recommend this for kids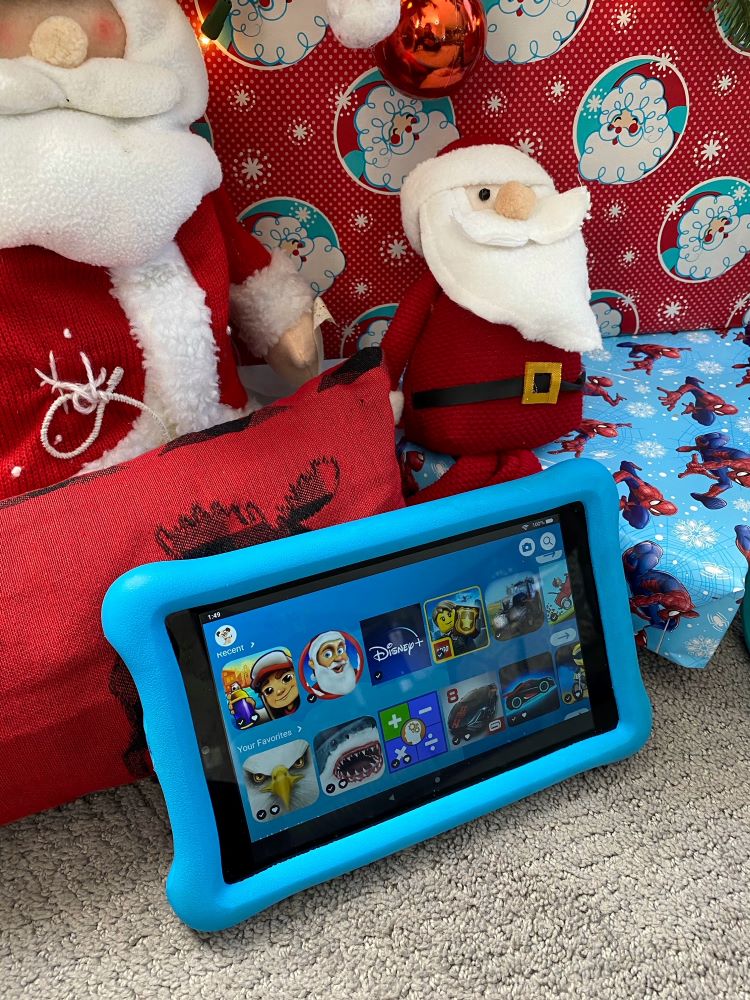 Swagtron K1 Kick Scooter
Our summers are so short, we make sure that we spend as much time as we can outside. Bikes and scooters are key to keeping the kids busy and active. We are loving the K1 Kick Scooter for so many reasons!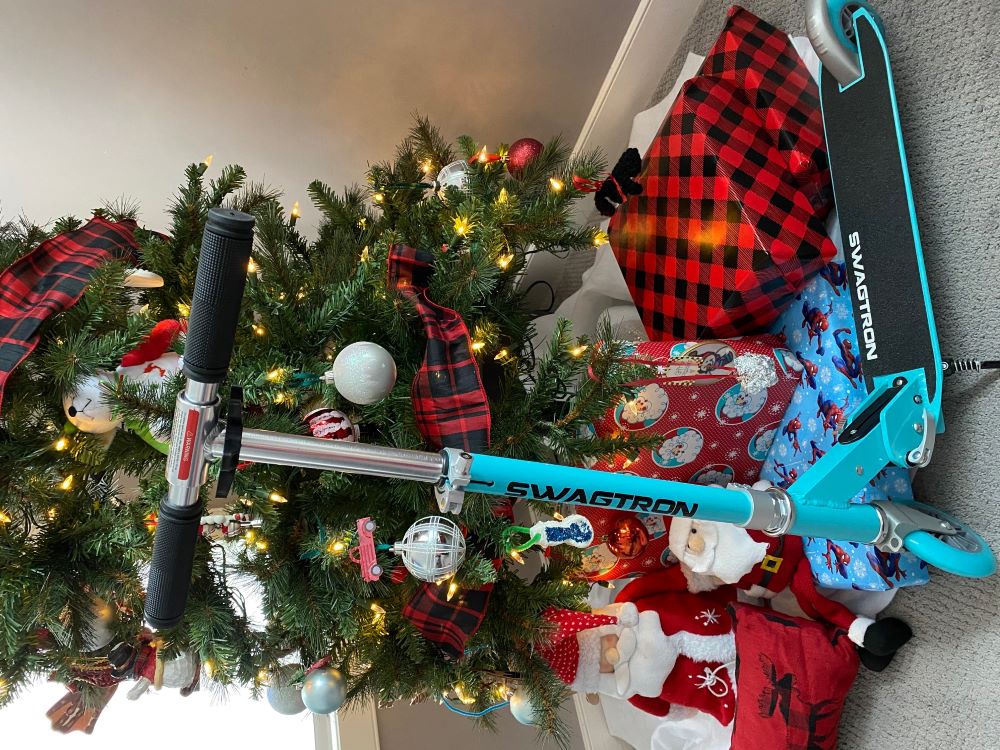 Since the height of the stem can be adjusted, it is perfect for both of my kids, aged 6 and 12. It folds down and locks up, making it portable for taking with you. The handlebars have a non-slip grip, providing comfort while riding. The grip fully covers the deck, its not just a little piece, which makes it comfortable to ride. It also has a kickstand which is always helpful.