We have been lucky in the last couple of weeks to enjoy some great October weather. We took advantage of this last week and went to Canmore for the day. We had lunch at Luna Blue and enjoyed a feast of garlic with bruschetta, pizza and pasta.
I had good friends coming over for a lasagna dinner and I needed a quick appetizer to go along with it. The garlicky bruschetta from the week before had been on my mind and I figured it would be the perfect starter. I added an avocado to the mix which added some texture and made the bruschetta creamy. It was a hit, even with the little ones.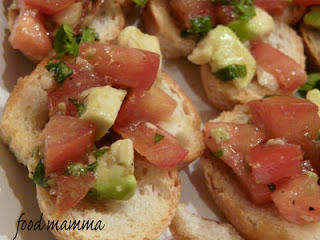 Garlicky Tomato & Avocado Bruschetta
3 tomatoes, chopped
1 avocado, chopped
3 cloves of garlic, chopped
4 TB olive oil
1 tsp balsamic vinegar
bunch of basil, chopped
salt
pepper
baguette, sliced
olive oil for drizzling
Slice the baguette on the diagonal and place on a baking sheet. Drizzle with olive oil and bake until toasted.
Mix the ingredients for the brushcetta. Let stand for 10 minutes. Top the toasted baguettes with the mixture and enjoy!