Watermelon, feta, mint….who knew combining sweet watermelon with creamy cheese and mint would taste so good. It's amazing how well it works together – trust me.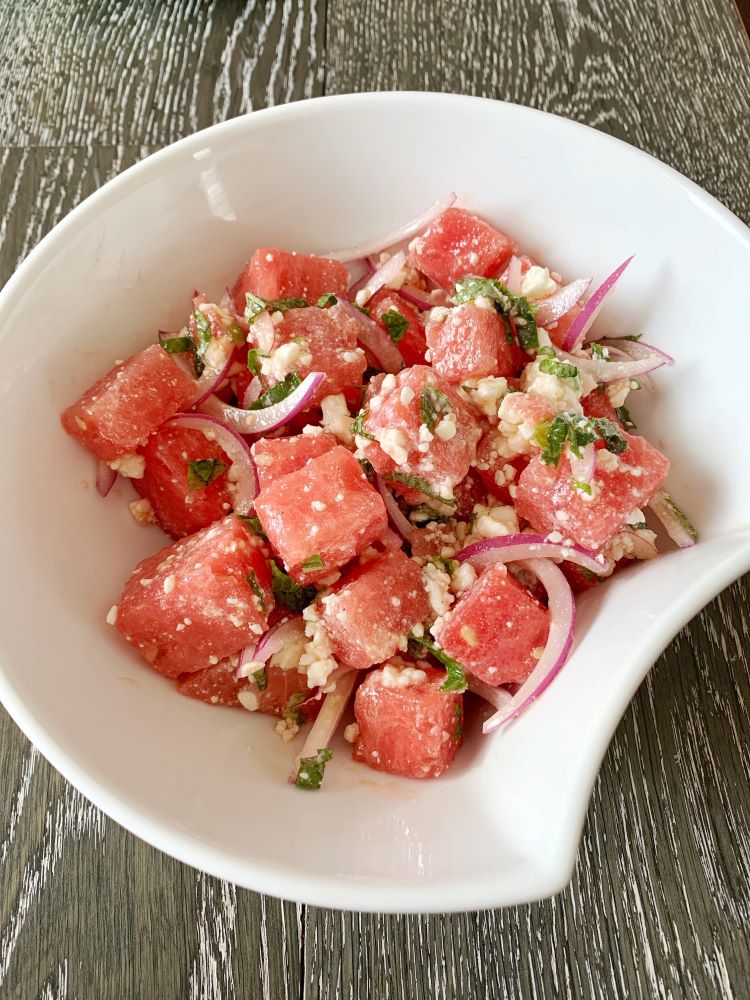 After cold weather and a snow fall this month, it's nice to finally have lovely May weather.  The weekend was spent outdoors. We enjoyed the plus 20 temperatures that we had eagerly been awaiting.  Sunday afternoon on the boat led to barbecuing indian spiced and korean bbq ribs. 
This watermelon, feta and mint salad was such a refreshing accompaniment to the meal.  This unexpected combination of sweet watermelon, creamy cheese accented with sweet red onions and mint definitely felt like "summer in a bowl".  Take it to your next potluck – it will be the most talked about dish.
Update – August 2019 – My 5 year old helped me make this salad today. He was so confused about the addition of onions to his beloved watermelon. He would not try the salad but I was not upset about it. It just meant there was more for hubby and I to enjoy!
Watermelon, Feta and Mint Salad
Ingredients
2 cups watermelon, cubed
1/2 cup crumbled feta cheese
1/2 small red onion, thinly sliced
10 mint leaves, sliced thinly
1 TB red wine vinegar
Juice of 1/4 lemon
2 TB olive oil
salt and pepper
Instructions
Combine the watermelon, feta, onion and mint in a bowl.
Combine the red wine vinegar, lemon juice, olive oil, salt and pepper and shake well.
Pour the dressing over the watermelon. Enjoy!
7.8.1.2
100
https://foodmamma.com/2010/05/summer-in-bowl-watermelon-feta-and-min/
Looking for some more watermelon recipes. Click here!