Rose-flavoured glaze takes this plain sour cream bundt to a whole new level.
Pretty and tasty with the addition of rose petals, this rose glazed bundt is a stunner.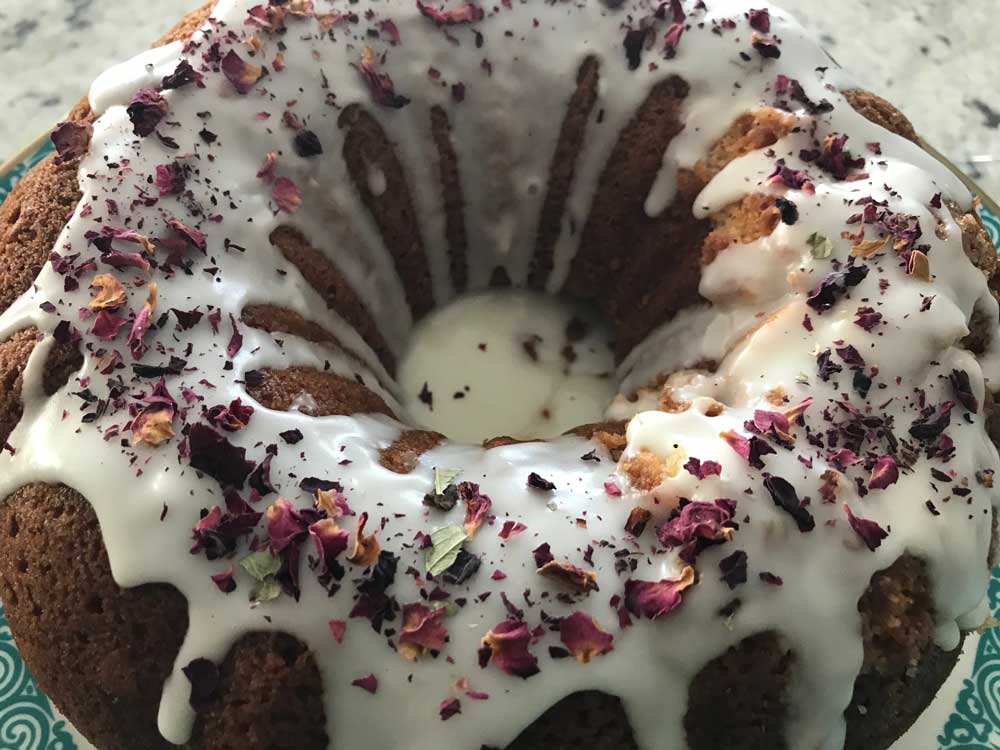 My go-to cake is definitely the sour cream cake. It's great plain or with icing and is requested around here often. I've used it for cakes, cupcakes and even cake pops.  For my mother-in-law's birthday, I wanted to take the cake up a notch. What better way than with  a flavour filled glaze.
The Inspiration
When I had seen the bottle of rose petals at Silk Road Spice Merchant, I knew I wanted to incorporate them somehow and this was definitely the best way to do it.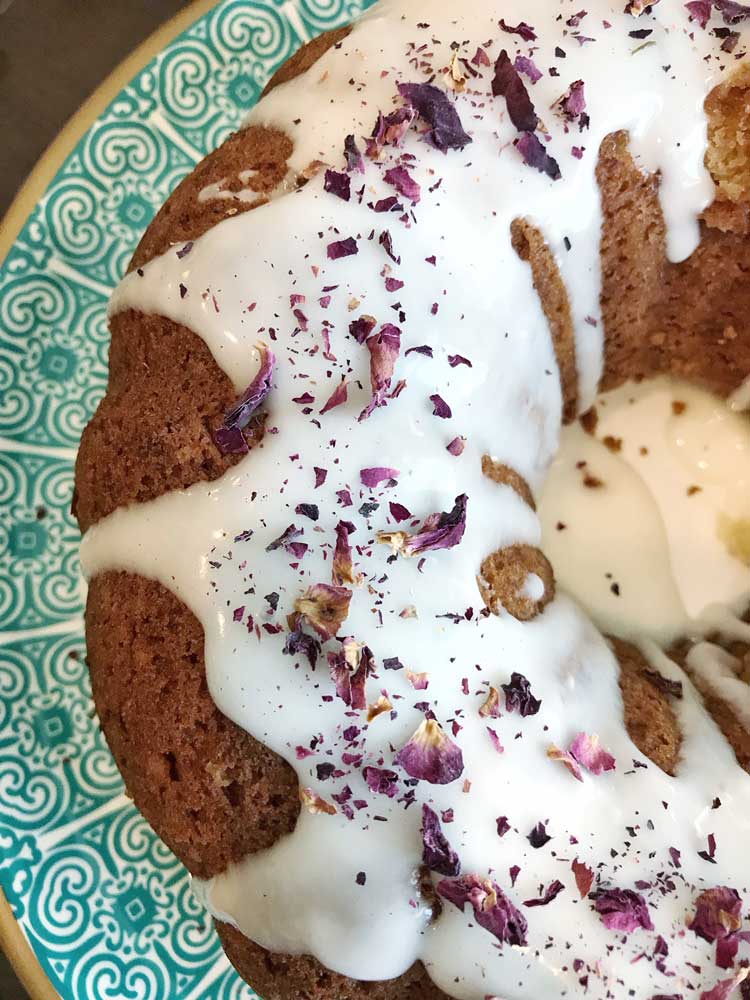 The Glaze
The glaze was made simply with some icing sugar, rose essence and milk. Rose essence is very powerful and a little goes a long way. This is very different than rose water which is a diluted version of the essence. 
Get the glaze into a consistency that is almost pourable, so you get that dripped look on the cake. Sprinkle the top of the cake with dried rose petals. 
Rose-Glazed Sour Cream Bundt Cake
Ingredients
"!Cake:"
1 cup butter
1 1/4 cup sugar
1 tsp vanilla
2 eggs
1 cup sour cream
2 cups flour
1/2 tsp baking soda
1 tsp salt
1 1/2 tsp baking powder
"!Glaze:"
1 cup icing sugar
1 tsp rose essence
2 - 3 TB milk
Instructions
Combine the butter and sugar and beat for a couple of minutes. Add the vanilla and eggs until incorporated. Add the sour cream.
In a separate bowl, combine the dry ingredients and add to the butter and margarine mixture. Put batter in a greased pan and bake at 350 degrees for 1 hour.
For the glaze, combine the icing sugar and rose essence. Add in milk slowly until the desired consistency is reached. Drizzle over the cake and sprinkle with dried rose petals.
7.8.1.2
77
https://foodmamma.com/2019/02/rose-glazed-bundt/