Treat your family or your friends to afternoon tea at home! Hot tea and delicious treats – a great way to spend the afternoon.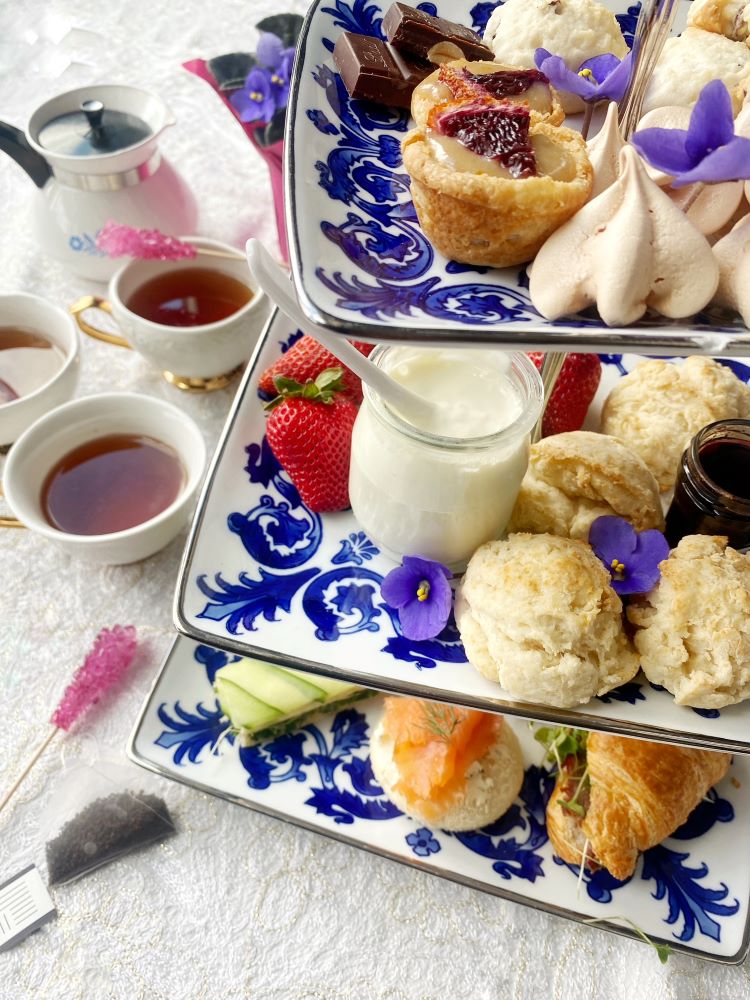 Afternoon tea is always a fun thing to do with my friends. The laughs and stories that are shared over tea and a tiered stand of scones, mini sandwiches and sweets is always a memorable time. While it is fun to go out and experience afternoon tea at your favourite restaurant, it is super easy to put together at home for your friends and loved ones.
Usually, there are three tiers – the top for the sweets, the middle for the scones and then the bottom one for the finger sandwiches.
Scones
Scones are a must-have for any afternoon tea. The easiest ones to make are cream scones, which come together so easily and are dropped by the spoonful on a cookie sheet. You can serve this with butter, jam or even some thickened cream or malai.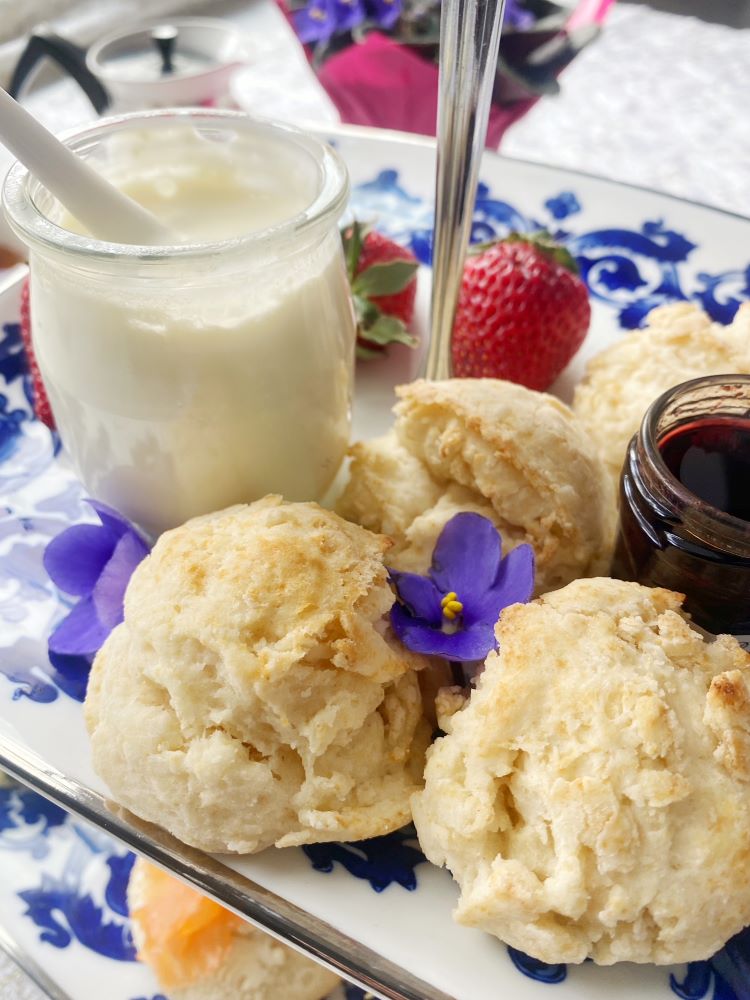 Sandwiches
Sandwiches are always fun to make since the possibilities are endless. I made three different varieties this time. Mini croissants with beef and greens, accented with mayo, dijon and horseradish was one. I knew I wanted a cucumber sandwich and bought some white bread just to make it. I put a thin layer of mayo on the bread and added some micro arugula. The top of the sandwich had another thin layer of mayo and then strips of cucumber on the diagonal. For the smoked salmon finger sandwiches, I put two slices of white bread together and used a round cookie cutter creating a puffy base. This was topped with herbed cream cheese, a slice of smoked salmon and some dill. Delicious! Turkey, egg salad, chicken salad or veggie would all make some delicious little fingerlings.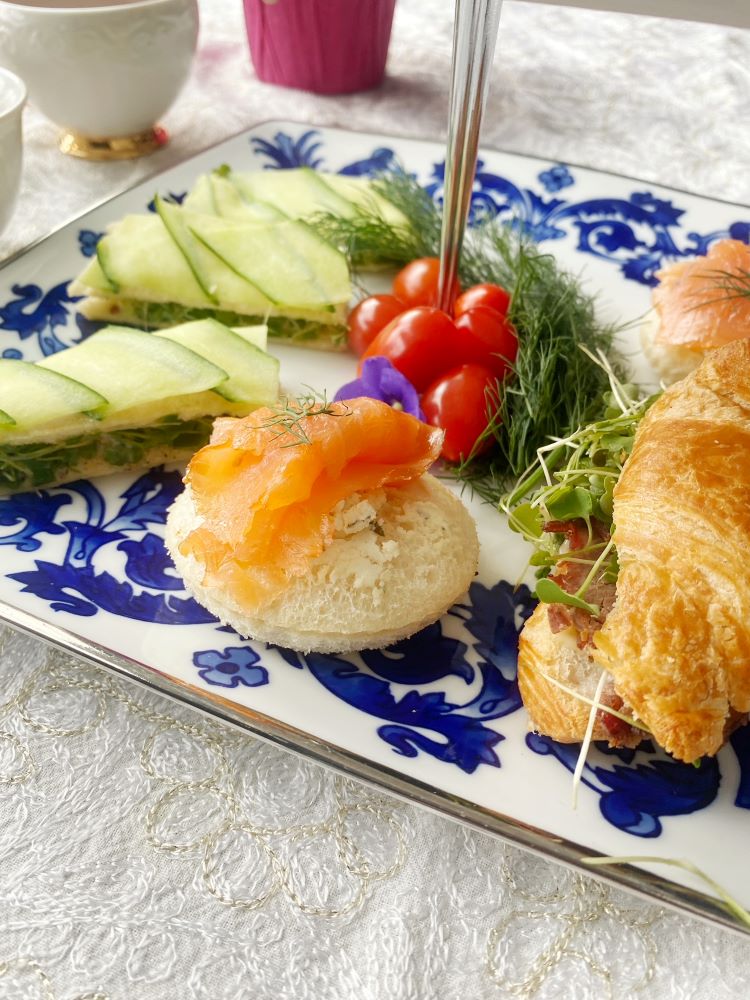 Sweets
Get creative with the treat section. I had so many ideas for this layer but ended up with just a few – mini tarts filled with blood orange curd (or lemon curd), dark chocolate, rose petal shortbread (or whipped shortbread if you prefer). Meringue kisses were the final touch and are super easy to make. Make your favourite meringue base, add in a splash of rose extract and some food colouring if you wish. Fill a pastry bag with the meringue and pipe using a large tip, like a 2D. Other options for this tier can include cakes, cookies, tarts….whether you make it at home or from your favourite bakery.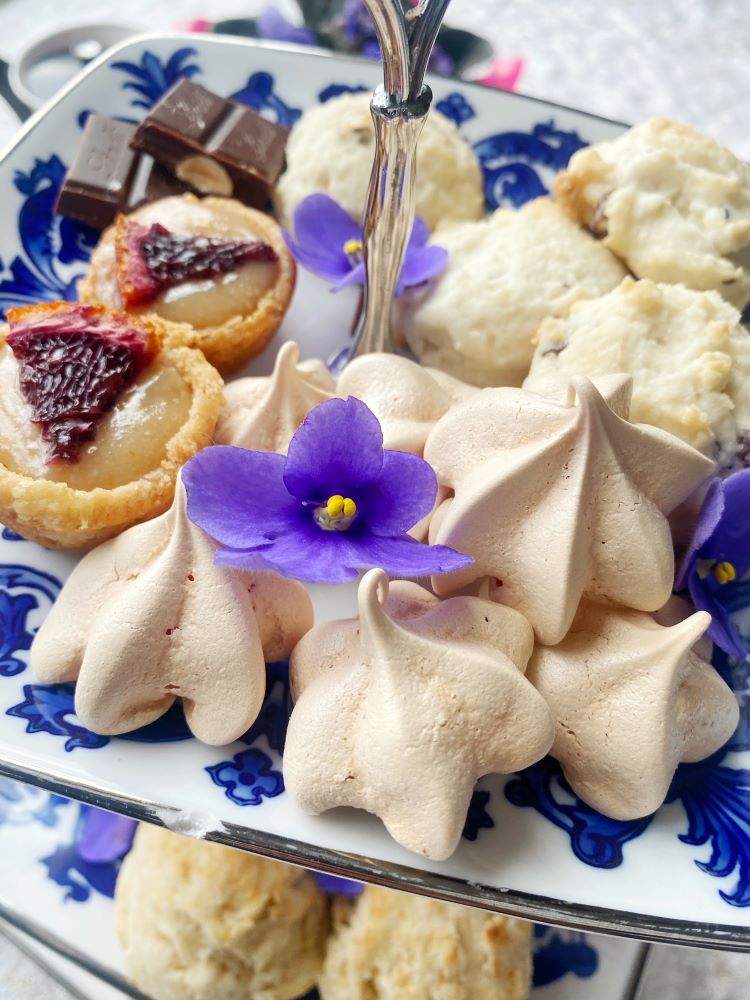 Accent the treats with some edible flowers, like pansies or African violets and voila!