We cooked from coast to coast at Hamilton Beach's Virtual Media Event. My contribution were these beef short ribs served in a crispy potato shell. Comfort food at its finest.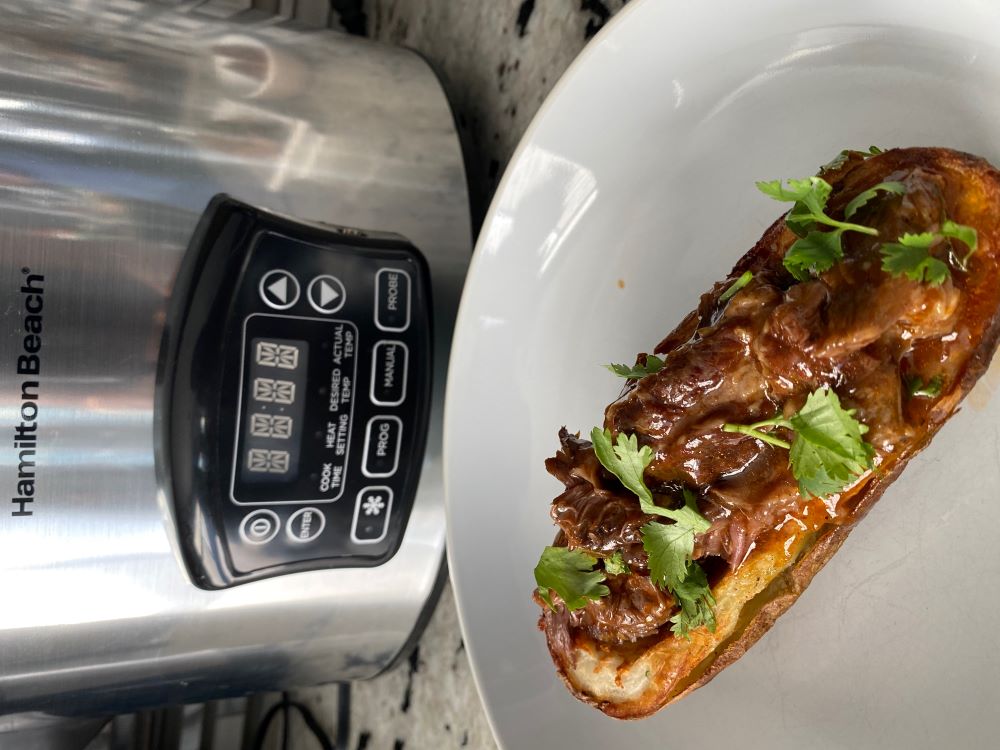 This is a sponsored post. All thoughts and opinions are my own. Affiliate links are included.
The Event
Earlier this month, I participated in Hamilton Beach's Virtual Media Event. It was such a fun event to be a part of and I was thrilled to participate with some very talented food personalities – Paul (Mr. Bannock), Julia (Ask Mama Moe), Janine (Along With The Youngs) and Miranda (Nutritionist and Wellness Expert). The event was hosted by Louise from Hamilton Beach and Noelle, a registered dietitian.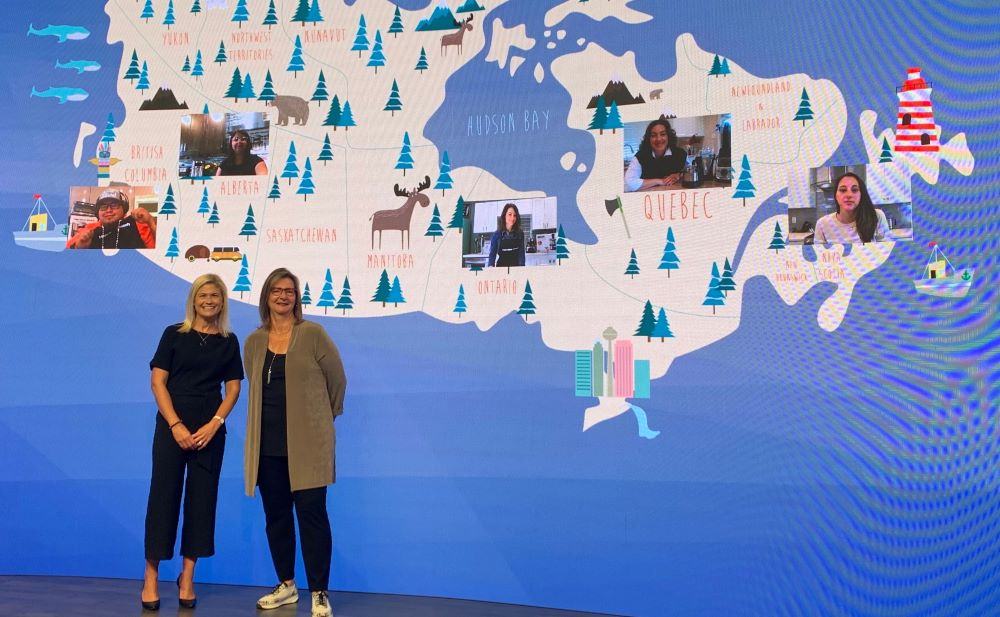 We cooked from coast to coast for their virtual media event and it was interesting to see the various dishes that everyone came up with. I was asked to create a regional dish using a couple of Hamilton Beach's appliances. I have used their appliances for years and I was thrilled to be working with them.
Naturally, my dish was made with good old Alberta beef. Fall off the bone beef short ribs to be exact. What better way to serve it than in a crispy potato shell. To make this dish, two Hamilton Beach products were used – a 5L Digital Air Fryer and the Defrost Slow Cooker.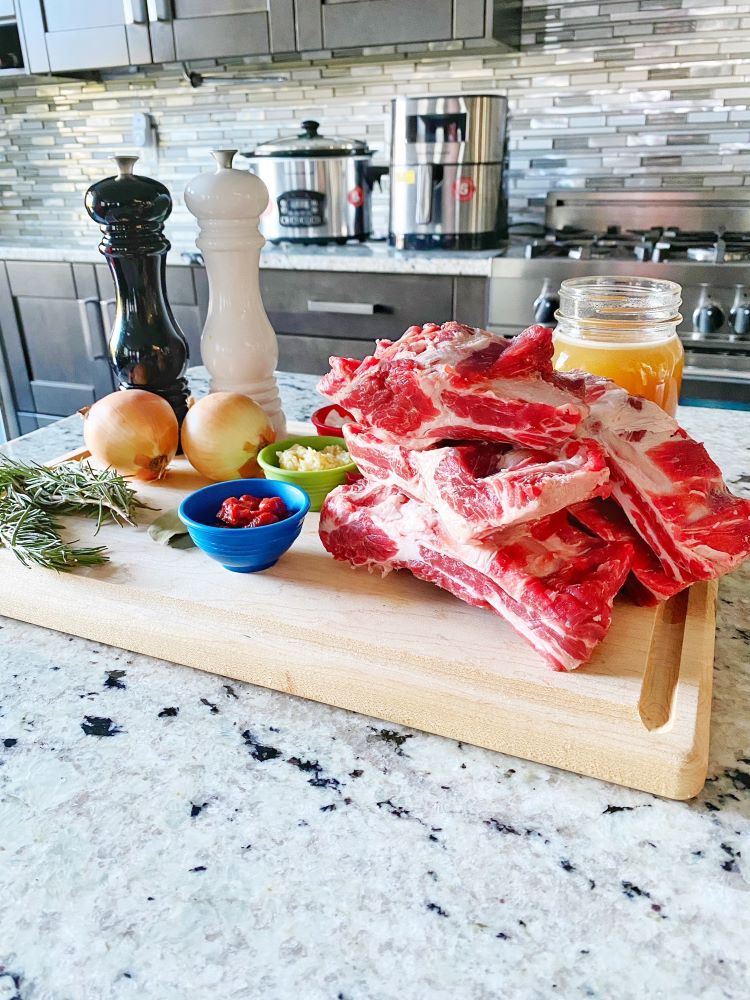 The Appliances
I loved the size of the 5L Digital Air Fryer and really appreciated it's large basket. You can fit a lot of food in there! One big thing I noticed about the air fryer was how quiet it was compared to others that I have used. The air fryer has 8 one-touch pre-set functions along with a manual 60 minute timer and temperature control. With its stainless steel exterior, it looks pretty good sitting on the counter.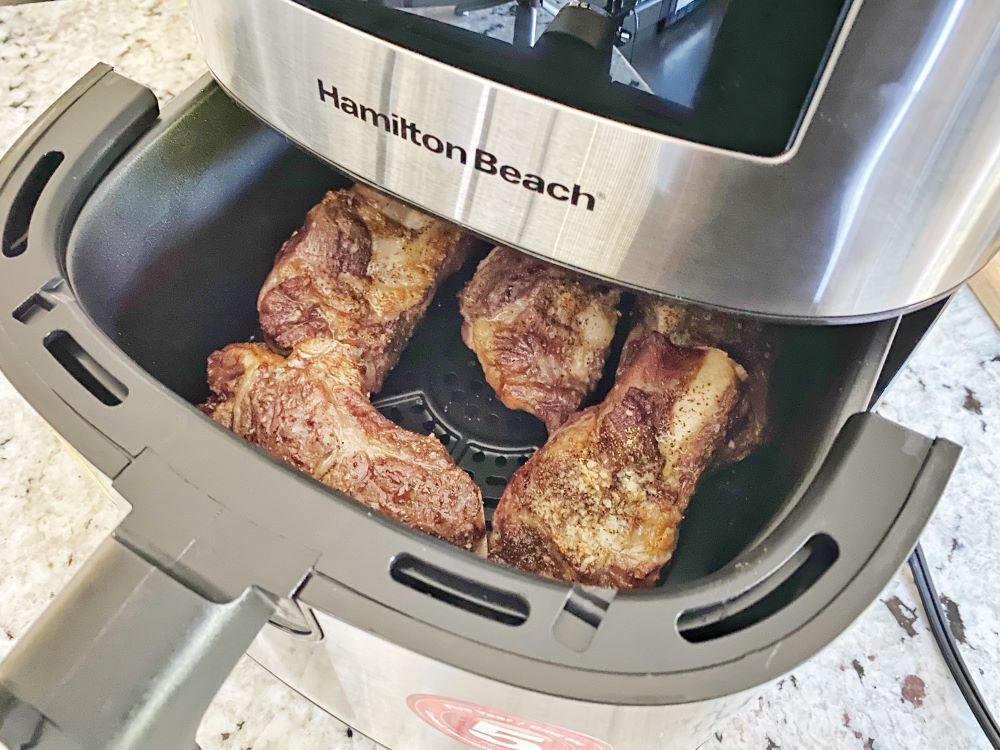 Size was also a positive factor with the Set & Forget Defrost Slow Cooker. While I used fresh ingredients for this recipe, I love that you could put in frozen items and they can defrost and cook all in the same appliance. The meat probe is a handy feature in this slow cooker, cooking meat to perfection. With the clips on the lid, this is the perfect thing to take to potlucks and gatherings.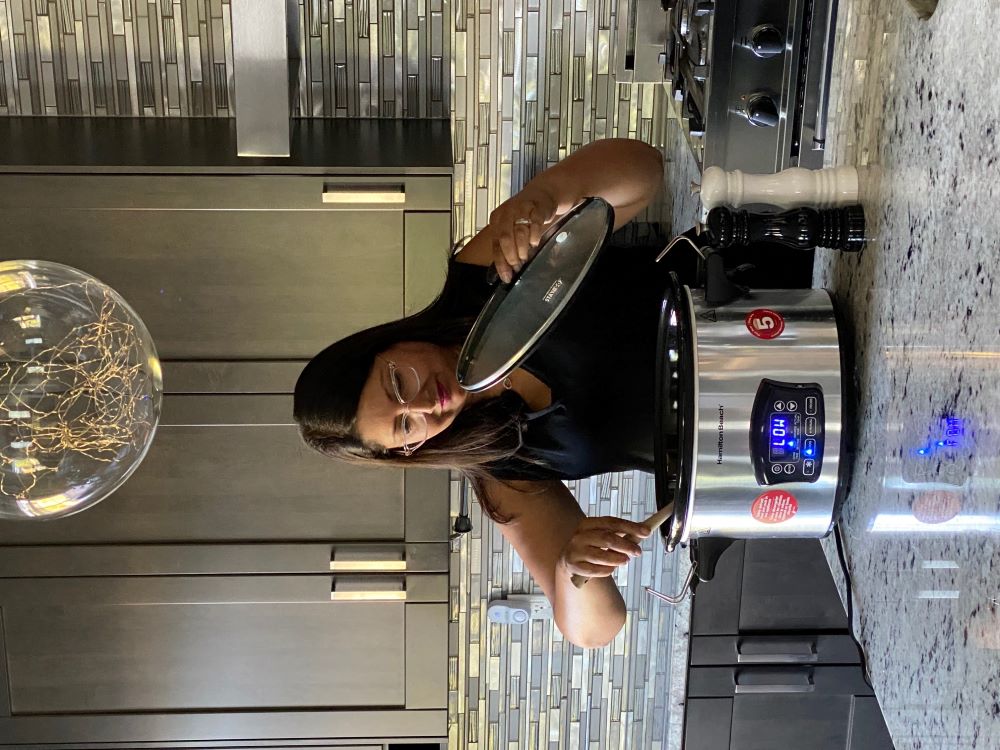 The Dish
When it comes to meat, I like to make sure meat is seared and a crust is formed before putting it into a slow cooker. You know how these beef short ribs were seared? In the air fryer! Sixteen minutes in the air fryer and the beef were browned with no mess at all. Once seared, the meat was transferred to the slow cooker where it was cooked low and slow for 7 hours.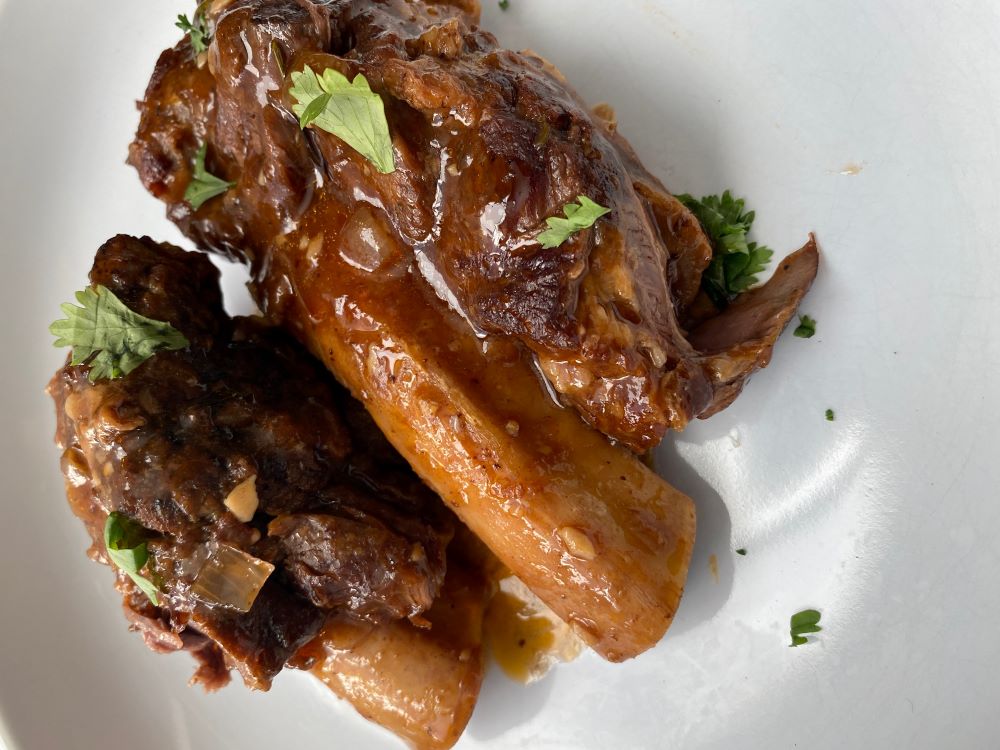 The ingredients for this dish are simple but create such a depth of flavour. This is one of those perfect Sunday suppers where the house is just scented with deliciousness throughout the day and then everyone is rewarded with a warm comforting meal.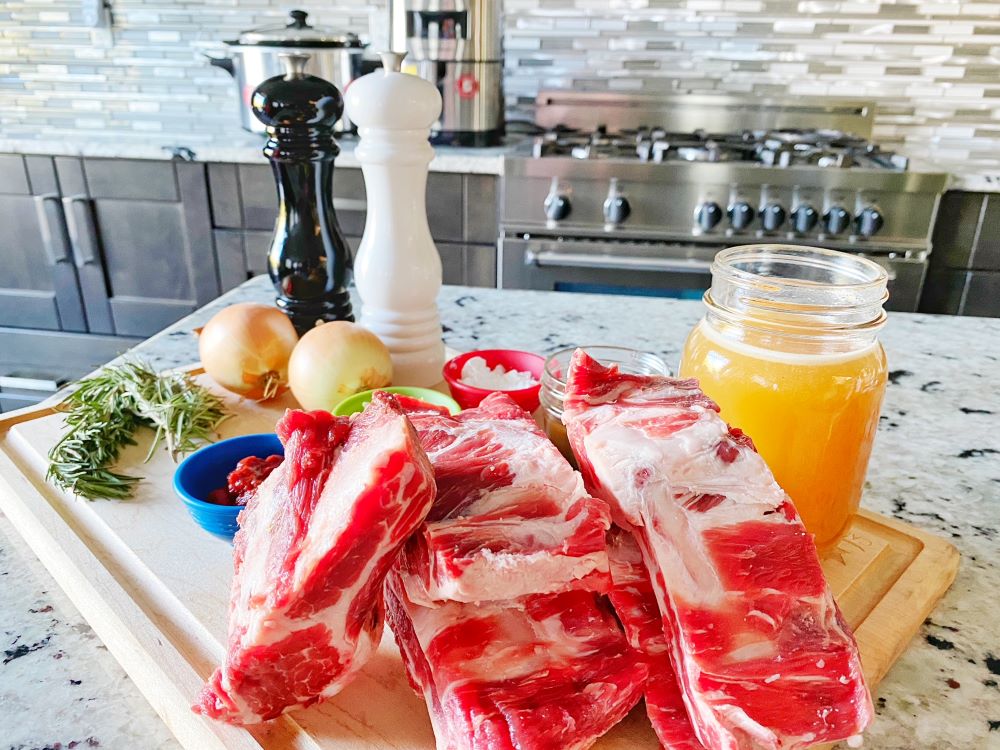 While I love the soft, tender meat on its own, it's even better when paired with something crispy. While I originally had thought of fries, crispy potato shells created the perfect vessel for holding in the meat. The potatoes were boiled until fork tender, the insides scooped out and then crisped to perfection in the air fryer.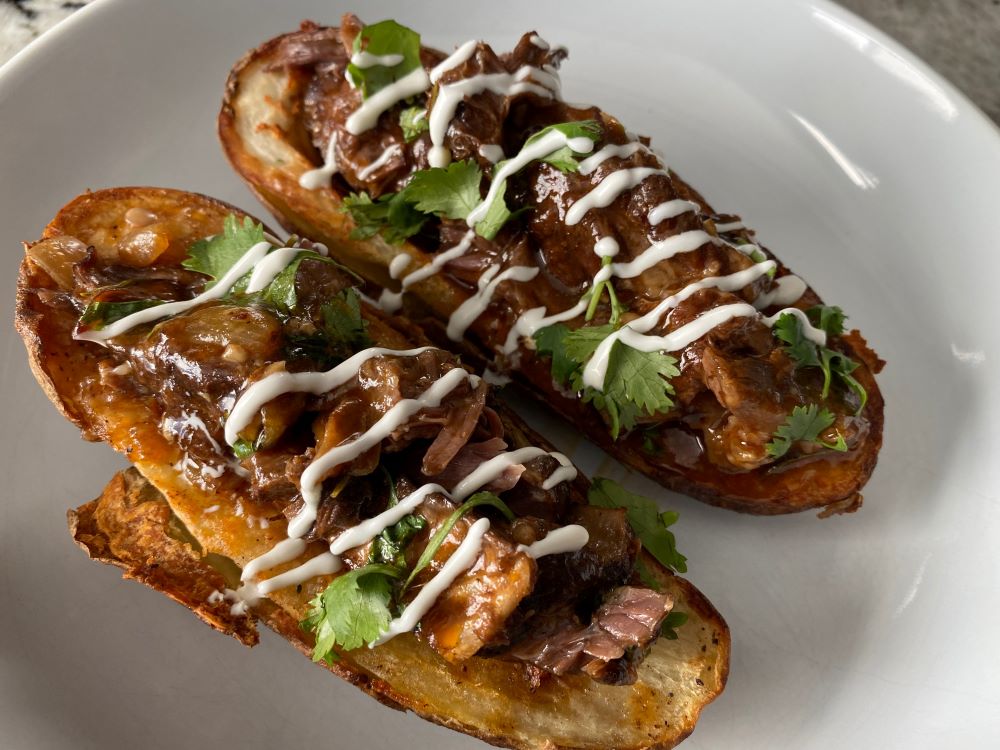 This recipe was tested multiple times and my family was very grateful for the opportunity to sample the ribs every time.
Beef Short Ribs in a Crispy Potato Shell
Ingredients
3 pounds beef short ribs
1 large onion, chopped
1 TB minced garlic
2 TB tomato paste
1/4 cup worcestershire sauce
2 cups beef broth
2 bay leaves
1 TB cornstarch
2 TB water
salt
pepper
potatoes
cilantro
sour cream
Instructions
Pat the ribs dry with a paper towel.
Drizzle with oil and sprinkle with salt and pepper.
Cook the ribs in the air fryer at 375 degrees for 16 minutes.
In the slow cooker, add the broth, sauce, onions, garlic, tomato paste and bay leaves and mix well.
Add the air fried ribs into the broth and cook on low for 7 hours.
For the potatoes, boil until they are fork tender.
Scoop out the insides of the potatoes, drizzle with oil and sprinkle with salt and pepper.
Cook the potatoes in the air fryer at 400 degrees for 17 minutes.
Fill the cooked potatoes with the meat.
Garnish with cilantro and sour cream drizzle.
7.8.1.2
184
https://foodmamma.com/2021/10/beef-short-ribs/