A handful of ingredients are needed for this bright Boursin pasta which is full of shrimp, peas, parmesan and lemon.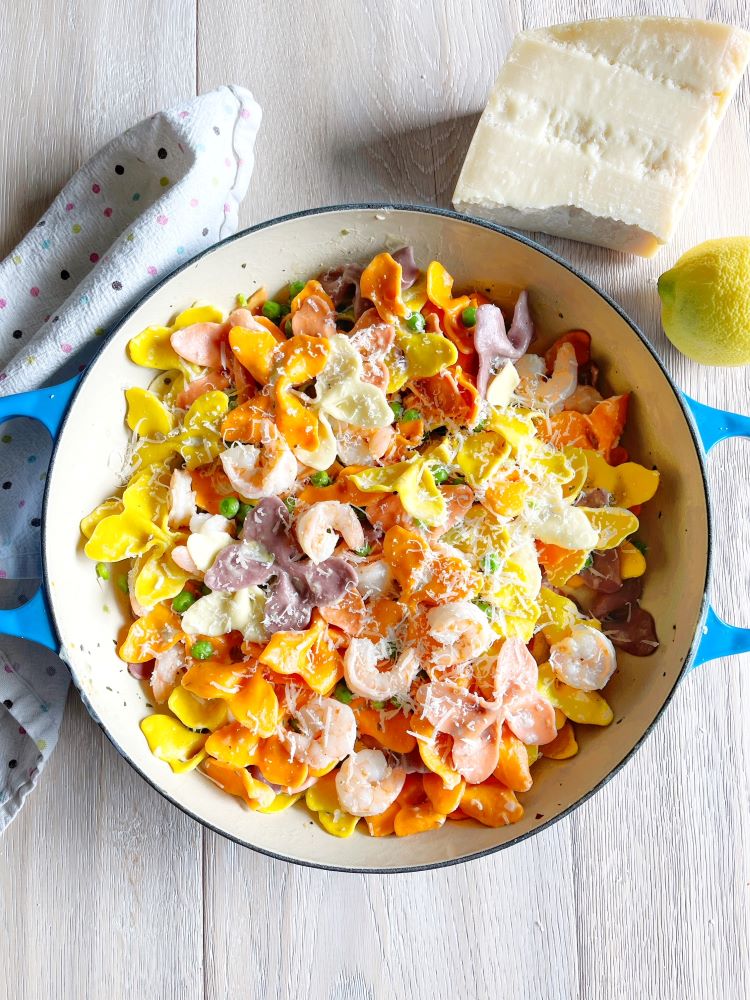 Boursin is a staple in our house. It's the perfect spreadable cheese on crackers or bread and is always great on a charcuterie board. It's delicious in casseroles and pairs well with meat and fruit. Much to hubby's frustration, I do stock up when it goes on sale so my cheese drawer is always stocked.
The sauce for this recipe is basically just the cheese and some starchy pasta water. It's just saucy enough, coating each noodle. You can use any kind of noodle you wish. I loved the colours of these butterfly bow ties – perfect for Spring.
The shrimp are just cooked with oil and garlic, complementing the Boursin. Just boil the pasta, cook the shrimp and add everything together with the Boursin, peas and lemon zest. Then just grate some parmesan on top, measuring with love. We love cheese so we may go a little over board.
The lemon zest was a great addition to the dish, brightening up the whole dish. This pasta came together so quickly so it's a perfect weeknight meal when time is limited. Easy peasy!
Boursin Pasta with Shrimp and Peas
Ingredients
1 pound pasta
1 150g Boursin cheese
1 pound shrimp
2 TB minced garlic
1 cup peas
1 lemon, zest
parmesan
reserved pasta water
Instructions
Cook pasta one minute less than the package says.
In a pan, heat some oil, add the garlic and add the shrimp until just pink.
In a pan, add the Boursin and transfer the pasta with a pasta strainer directly on to the cheese.
Add the shrimp, the peas and the zest of a lemon.
Grate the parmesan, measuring with love. I love lots!
If the cheese needs to be thinned out, add a little bit of the reserved pasta water.
7.8.1.2
205
https://foodmamma.com/2022/05/boursin-pasta-with-shrimp-and-peas/