This cherry pie is mixed with chopped almonds and goes perfectly with vanilla ice cream.
March 14, Pi(e) Day! A great excuse for pie, don't you think?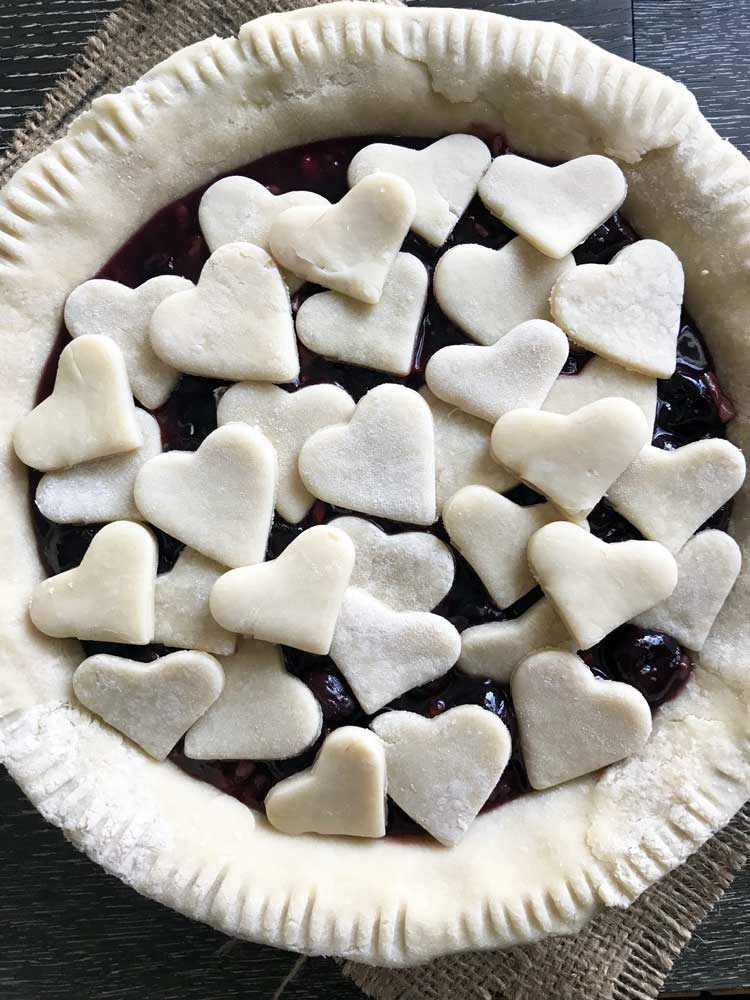 I had been wanting to make cherry pie since the summer. I never did get around to it but I made sure to freeze some cherries so that I could enjoy them later, as jam or in baking. Turns out Q is great at pitting cherries so I put him to work.
Cherries and almonds are always a great combination and I thought the baked cherries with chunky nuts would be great in a pie. I admire those people who make perfect looking pies. Mine are far from perfect, I'd say they are rustic. It's all in the taste anyway, right?
I make the dough in a food processor. Anything that can make the job done easier. It makes the dough and chops the nuts, so it does double work. For the top of the pie, I was going to make a lattice but I was inspired by of Jo-anna's beautiful pies from A Pretty Life.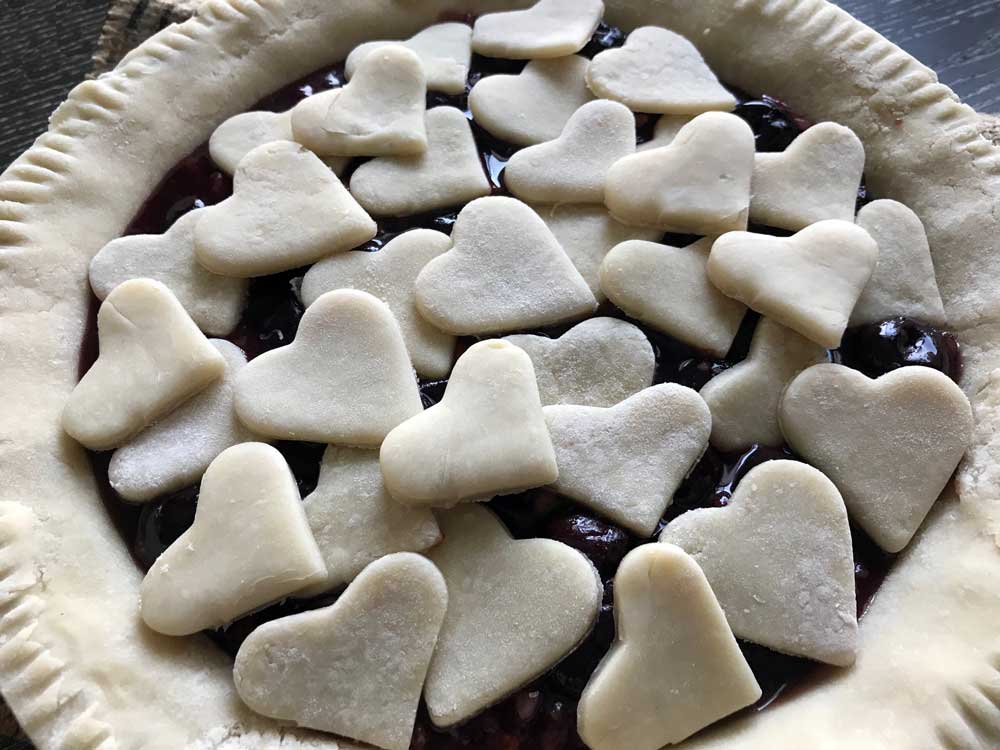 Baked cherries are so delicious. This pie is perfect with some vanilla ice cream.
Ingredients
Pie Dough

2 cups flour
2 tsp sugar
1/2 tsp salt
1/2 cup butter, cold
1/2 cup water, ice cold

Filling

5 cups Bing cherries
3/4 cup sugar
1/2 cup chopped almonds
3 TB flour
1 TB lemon juice
Instructions
In a food processor, pulse together the flour, sugar and salt.
Add the cold butter and pulse until the butter is incorporated into the flour.
Add in the water, by tablespoon, until the dough comes together. You may not need all of the water.
Divide the dough into two disks, cover and refrigerate.
Roll out the cold dough to the size of your pie plate. Prick the bottom of the pie dough with a fork and place back in the fridge until the filling is ready.
For the filling, combine all the ingredients.
Heat the filling in a pot on the stove until the mixture has thickened.
Let the filling cool before pouring it into the prepared pie dish.
Cover the filling with the remaining dough.
Bake the pie at 375 degrees for 45 minutes.
After 30 minutes, if the edge of the pie is browning, cover with foil.
Serve with ice cream or whipped cream.
7.8.1.2
79
https://foodmamma.com/2019/03/cherry-and-almond-pie/
More Pies
Here are some more ideas for you: