When visiting my cousin in Toronto this summer, she had made the most amazing banana bread. This bread is incredibly moist and so tasty, I was delighted when she shared the recipe. It became an instant hit and is now a regular in our house. Thanks A!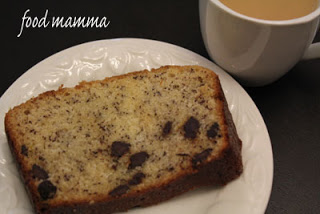 Banana Bread
1/2 cup margarine, softened
1 cup sugar
2 eggs
1 tsp vanilla
1.5 cups flour
1 tsp baking soda
1/2 cup sour cream
2 bananas, mashed
1/2 cup chocolate chips
Cream margarine and sugar together. Once combined, add eggs and vanilla. Next, mix in the dry ingredients – flour and baking soda. Add the mashed bananas, sour cream and chocolate chips.
Add the batter to a loaf pan and cover with foil. Bake at 350 degrees for one hour.