We bought some maple syrup on the weekend and I'm resisting the urge to pour it on everything. I figure roasting carrots with it would be okay though, seeing as how its veggies. That's good justification, right? This was a hit with the kids and we will need to make it again very soon!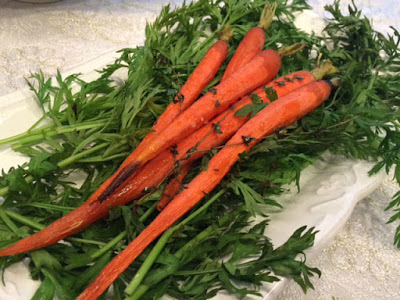 The syrup caramelizes the carrots making them sweet and delicious while the salt makes them a bit savoury. This makes the perfect vegetable side dish for turkey dinner.
Maple Roasted Carrots
1 bunch carrots
1 TB olive oil
1 TB maple syrup
few sprigs of thyme
salt
Place the carrots on a baking sheet. Drizzle the oil and maple syrup on the carrots and let them roll around. Sprinkle with salt and add a few sprigs of thyme. Bake at 350 degrees for 30 minutes.